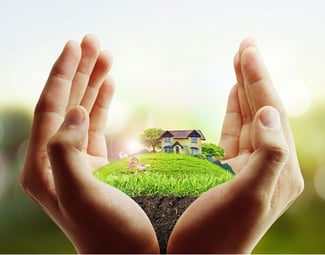 We all look forward to being comfortable within our new homes. But a significant part of feeling comfortable is feeling secure—knowing that your new Poconos home is a safe place.
There are some steps you can take to ensure that your new home is safe and secure on a number of different levels. Here are a few things that you'll want to consider.
Radon Detector: Radon is a gas that's virtually undetectable without monitoring. It's not detectable by smell, but in high doses it can be extremely toxic. You'll really want a radon detector to protect you and your loved ones against this unseen danger. By the way, radon detectors are standard equipment on all Liberty homes.
Carbon Monoxide Detector: Carbon monoxide is another odorless, silent killer. You'll want to make sure your home has a CO detector on every level.
Smoke Detector: You'll also want to ensure that you're protected from fire. That means having a good smoke detector on every level of your home. There are an increasing number of units available that combine CO detection with a smoke detector (including the popular NEST units).
Home Security Systems: Increasing numbers of homeowners are opting for home security systems such as those from ADT or other companies. The range of protection varies from simple alarms to whole home security that includes video and remote control access via smart phone. Some even allow you the ability to monitor and control heating and cooling. Others even have options for locking or unlocking doors remotely (in case you have to let someone in to feed a pet or to perform some kind of service).
These are all simple and affordable steps that will help you feel safe, secure, and comfortable in your new Poconos home. Plan on including them in whatever style home you choose and you can move in with confidence.