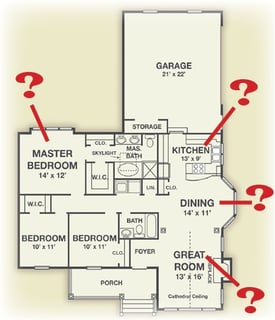 While it's a given that you want outstanding quality throughout your whole house, it's also true that not all rooms are created equal. That means when it's time to build, you'll want to pay special attention to certain rooms. But which ones should you focus on? How do you identify the most important spaces in your new home?
The answer will depend on your specific lifestyle. What you'll really want to think about is how you actually plan to use the space.
If you like to entertain, you'll want to think about how you entertain. Do you tend to have events where you invite one other couple—or do you enjoy having a larger group? That can significantly impact the design (and size) you'll want for your dining room and great room or family room. Are your dinners casual, or do you prefer the atmosphere of a formal dining room?
Think about how you like to cook. If you just cook for your family, a smaller, well-designed kitchen may be totally adequate. If you cook for larger groups (or like to entertain in the kitchen itself) you'll probably want a more spacious kitchen. There's no question that your kitchen is probably one of the most important spaces in your home. That's why we've created a helpful Creating Your Ideal Kitchen eBook that you can download here for free. It's a great resource for creating the kind of kitchen that best suits your specific lifestyle.
However, deciding which rooms are more important involves more than just your entertaining style. How do you use the space when it's just your family at home? Do you use your family room or great room a lot? Is it where you watch television or movies and read? Or are those activities you tend to enjoy in your bedroom? Those are things you'll want to keep in mind as you think through which floor plan best suits your needs.
Beyond that, you'll want to give consideration, not only to specific rooms, but also to how those rooms flow into one another. Do you prefer a home where the bedrooms are located on a different level for privacy? That can be important if you have children or guests who need separate space. But you'll also want to consider your own long-range needs. Will you want the convenience and comfort of single-level living down the road?
Ultimately, your lifestyle and which activities you consider most important are the things that will determine which rooms in your home are the most important. So as you look at potential floor plans, make a mental list of the things—both in terms of personal comfort and social activities—that really matter the most to you.