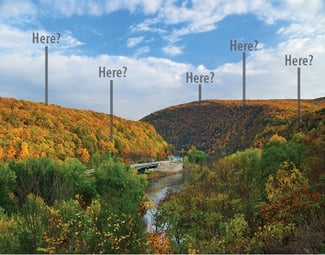 The piece of property you build your home on can be every bit as important as the structure that sits on it. That's why getting the right light is so critical.
It's relatively easy to say you want great views or that you want to be close to everything (or as far away from everything!) as you can get. But there are some additional factors you should consider as well. Here are just a few:
Adequate Space: Is there enough room for your family now—and into the future? If you want to expand or add on, will you have the space?
Accessibility: Is the lot you're considering easy to get to? Will you feel secure there as time goes by? If you'll be commuting to work, will that be an issue?
Services: Think about getting to schools, activities, shopping, recreation. Will those needs change down the road?
Positioning: Will you be able to position your home the way you want to on the lot? What direction do you want the home to face? What about access to your garage?
Suitability for Building: There are some lots in the Poconos that are absolutely beautiful—but very costly to build on. What's the terrain like? Will the lot require a significant about of work before you can even pour a foundation?
Price: Does the price of your lot fit the kind of home you plan to build on? You probably don't want to build a larger home on too small of a lot—or a small home on a large lot.
Landscaping: Lots of people love the region because of the abundance of trees, but all of those trees can present some unique challenges when it comes to building your new home. Here's some helpful information about how to handle the landscaping around your new home when you can't see the forest for the trees!
If you are looking to build a custom home in the Poconos, we can help! At Liberty Homes, we give our customers choices when it comes to choosing a lot and building. We can either build your home in one of our 6 preferred communities, or on a lot you have purchased yourself! Either way, you get to make the choice for the perfect location for your custom home!