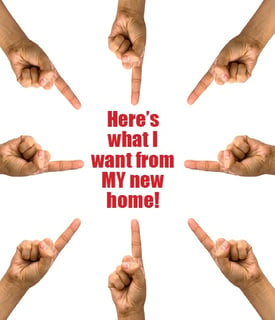 If you ask 10 different prospective homeowners to name the most important features for their new home you'll probably get 20 different answers! That's because a home is a very personal and unique place for each family. What's important for you may not be the same things that are important to someone else. Of course, that's one of the things that makes a custom home stand out; you have the ability to create a home to your unique specifications.
There are, however, a number of general home features that most homeowners across the board would agree are particularly important. Let's look at a few of them.
Location
It's been said that where you build your home can be as important as what you build on it. But there's a lot more to consider about the property you purchase than just the coordinates on a map. How can you make sure that the lot you buy will be right for the home you plan to build? Here's a helpful article that addresses some of the key questions you should ask to make sure you select the right lot—and that you get the most out of it.
The Kitchen
If it's possible to pick a "most-important-room-in-the-house" it's probably the kitchen. In addition to being a hard-working meal preparation room, it's often "command central" for family activities, a place for casual meals, and the center of attention for casual entertaining. How do you get this room right? Here's a helpful free eBook that will show you how to Create the Perfect Kitchen.
Energy Efficiency
At one time, "green living" was considered kind of a fringe lifestyle. These days, homeowners are increasingly aware of the impact their homes can have on the environment—and the impact their energy use can have on their budget. This helpful article talks about what you can do to make sure your home is as energy-efficient as possible. That's great for the environment, your pocketbook, and your personal comfort!
Layout
Speaking of comfort—the general layout of your home plays a major role in how comfortable you'll feel. Different families have different lifestyles and needs. That's why we offer more than a dozen different plans from which to choose. You can take a look at those plans here and decide which one best fits your needs.
Customization
We all know that "one size doesn't fit all." And one design won't fit the wants and needs of every family. That's why we build custom homes. Any plan you see can be adapted, adjusted, tweaked, or changed to meet your needs and desires. Here are just a few of the ways we can adapt any floor plan to give you the home you want:
Adjust the dimensions of a room, making it larger or smaller

Add or subtract the number of windows in a space (without compromising the structure)

Change the colors of siding, roofing, walls, hardwood, carpet, and more

Add or subtract indoor features such as kitchen islands, built-ins, counter space, and more

Change the type of appliances to be installed

Adjust the height of ceilings in the house

Alter the flow between rooms and the outdoors by adding or removing door ways, entrances, garage doors, and more

Add or subtract additions such as sun rooms, decks, guest rooms, bathrooms, and more (depends on the structure)

Add or subtract entire floors and basements from the home (depends on structure)
How can you get what you want from your new home? Figure out what the most important features are for you and then work with a builder who will bend over backwards to make that happen!