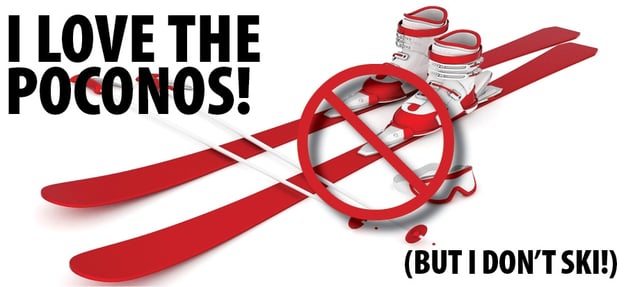 As autumn slips away into winter, you'll no doubt hear more talk about the great skiing available in the Poconos. Some people in the area are already checking their bindings and tuning up their skis. But what if skiing isn't your thing?
Just because you don't ski doesn't mean you have to hibernate all winter. There are plenty of great activities waiting for you. Here are just a few.
1. Keep Things Wet and Wild
Often people think of swimming and water fun as a summertime activity. Now you can enjoy a splashing good time all year long at one of three Poconos all-season water parks.
2. Shopping That Won't Make You Feel Like Dropping
If you're tired of the same old mall scene, you should check out some of the unique shopping opportunities in the Poconos.
3. Enjoy an Adult Get-away
Not everything has to revolve around the kids! Sometimes adults need to get away on their own. Here are a couple of options you might want to consider.
4. Take in a Play
The Poconos region has plenty of visual and performing arts for all to enjoy! Take your kids to a family-friendly musical. Or treat yourself to more adults offerings. Choose from classic plays and theatrical events to fine art exhibitions and sales, cultural events abound in the Pocono Mountains.
There are a number of places where you can check out theatrical presentations or catch a concert. Here are just a couple:
5. Hone Up on Your History
The Poconos region has a rich history going back to the natives who lived here before the towns. You can check out some of the history of the area's first residents at The Pocono Indian Museum in Bushkill.
Many of the towns in the Poconos have also gone through quite an evolution. There's a history of mining, manufacturing, and industry, and railroading. The area offers a number of places to explore a past that's quite different from life in the Poconos today. The No. 9 Mine and Museum has a fun and interesting tour that lets kids (and adults) see an actual coal mine left pretty much the way it was when operations ceased. There is even an intact hoist shaft and also a museum packed full of mining artifacts.
6. Treat Your Taste Buds
There are all kinds of great restaurants in the region. If you want to get away from having the same old thing for dinner every time you go out, this is a great place to explore new options. There are just a few of the fine dining locations you may want to check out.
The Poconos region is a great place to live and have fun—even if you don't ski! You just have to know where to look!