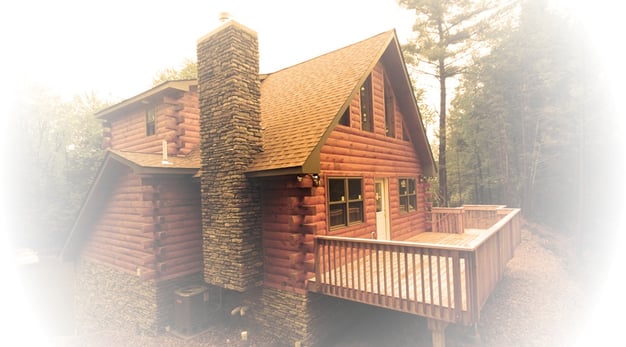 Perhaps nothing evokes the spirit of living in the Poconos Mountains more than the image of a rustic log cabin. It's a reminder of the region's history—from the days of coal mines and locomotives to its early days as a resort destination set apart from the hustle and bustle of city life.
These days, however, rustic doesn't have to mean unrefined or uncomfortable. As a matter of fact, your cabin doesn't need to be made of logs. The truth of the matter is, you're the one who determines what your "rustic cabin" should look like. There are plenty of other home options that can still provide that rustic, woodland feel.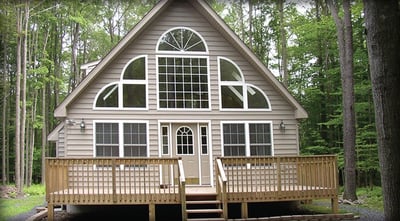 One example is our Lakewood II floor plan that you see pictured here. This classic A-Frame style home looks like it belongs in the woods. The large deck makes it easy for you to feel at home in the outdoors without leaving the comfort of your home. The abundance of windows lets you bring the beauty of the outdoors right into your home.
And what's inside your home makes this spacious "cabin" truly comfortable. The main level features a spacious master bedroom that allows single level living now and into the future. The kitchen opens onto a fabulous Great Room with a balcony looking down on it from above. There is also a fireplace in the living room that will allow you to enjoy a cozy fire on cool mountain evenings. The second floor features two bedrooms (for kids, grand kids, or guests. There's also a loft that overlooks the Great Room and affords fantastic views through the windows.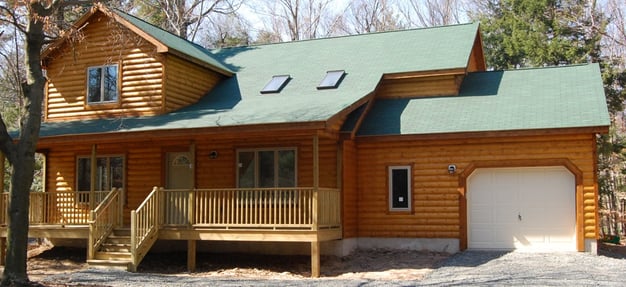 Having a rustic cabin doesn't mean you have to do without amenities such as a garage. Here's an example of another log cabin we built recently with an attached garage that makes starting your car a lot easier (and more comfortable) on those cold Poconos mornings.
We invite you to take a look at some of the other options available to you. We offer a wide variety of floor plans in different styles and sizes. Keep in mind that we can make modifications to any of these plans (on the interior or exterior) to make sure you end up with the home you want.
Of course, your location plays a huge role in creating the perfect mountain retreat. If you want lakeside living, you might want to choose a property in Arrowhead Lakes Community, Locust Lake Village, or Lake Naomi. There are a number of other communities in the region (Check them out here) that put you in the middle of the great scenery of the Poconos. And of course, we'd be delighted to help you build your dream cabin on a lot of your choice.
Having a cozy, rustic home may be one of your dreams, but there's more to owning a Poconos "cabin" than just the aesthetics, either. There are additional benefits to building a place with a somewhat smaller footprint. Here's a look at four additional reasons why building a smaller home may make sense.
Regardless of whether you're considering a vacation home, a place for retirement, or a family home, we can help you find—and build—the Poconos "cabin" that will meet your needs and make you feel at home in this gorgeous part of Pennsylvania.