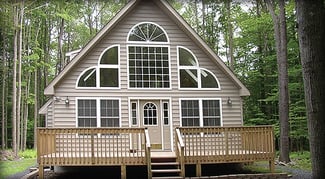 When it comes to building a new home many homeowners subscribe to the theory that "bigger is better." According to propertyshark.com U.S. homes built in the last 6 years are 74% larger than those built in the 1910s. The average new home in America is roughly 2,430 square feet. But is that right for you? Let's look at why building a smaller home may make sense.
Cost
This is pretty obvious, but worth mentioning. The cost of the home is largely dependent on labor, materials, and land. Bigger homes use more materials and take longer to build. Often, a larger home sits on a somewhat larger lot. Of course it takes more energy to heat and cool.
Maintenance
Having a larger home means that there's more to take care of—both inside and out. That includes everything from dusting and vacuuming inside to painting and re-roofing the exterior. With outdoor maintenance in particular, that means additional expense. And while you may take care of indoor maintenance yourself, it still takes your time.
Convenience
One advantage of a smaller home is that everything is conveniently located. That's particularly attractive to homeowners who are more mature and don't want to contend with stairs or the hassles of trudging through a larger home to do daily tasks.
A More Sustainable Lifestyle
Sometimes living in a smaller home can lead to living a more sustainable lifestyle. If you have less storage space, you're more likely to think twice about purchasing things you really don't need. It can even impact the amount of waste you create in the kitchen and other rooms of your home. It doesn't necessarily mean you'll become a minimalist, but small steps can have an impact on the environment around you.
Having mentioned these things, the big question remains: "What size home is right for you?" If you enjoy entertaining, or have frequent visits from family and friends, building too small is probably not a good option. In most cases, it's more expensive to add on later than it is to build a little larger now to meet your needs. So while we don't encourage clients to build more than they need, we also don't recommend that they build less than they are really going to want.
That's why we offer so many different floor plans from which to choose. Click here to take a look at 17 different floor plans that are available to you. And keep in mind, that it's not just the square footage that matters, but how a home is laid out that makes it a good fit for you. It's also important to keep in mind that any plan you see can be customized to your needs so that it better fits your lifestyle.
Bigger isn't always better. What's really important is finding the home that's the right size for you!