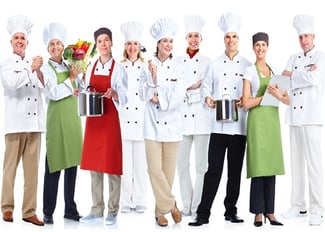 If you're planning to build a custom home in the Poconos or considering remodeling your existing kitchen, you want to make sure you get this all-important room right. But what does the ideal kitchen look like? If you look at popular online sites (such as houzz.com or bhg.com), you'll see hundreds of examples of absolutely stunning kitchens. Is there a "right" way to design a kitchen?
Finding the kitchen that's right for your Poconos home depends on your "kitchen personality." There are two important elements of your kitchen personality. Let's take a quick look at both.
What Kind of Cook Are You?
What we're talking about here has less to do with your skill level and more to do with how you'll actually use your kitchen. If cooking is a serious hobby, you may want to design your kitchen around making it easier and more convenient to prepare the creations you're working on. That will affect your choice of countertops and other work surfaces. If you're going to be doing a lot of chopping and cutting, you may want to incorporate more butcher-block surfaces. It can also impact the location of various features in the kitchen to make it easier to move from one section to another (something that's commonly referred to as a kitchen "work triangle.")
If your kitchen is more of a gathering place for family and friends, you may opt for more space in the kitchen so that you can still get around to make preparations without feeling like you're running into people at every turn. And you'll want to consider whether or not you'll be eating in your kitchen—or whether you prefer to keep it a "work" area and dine elsewhere.
What's Your Kitchen Style?
What do you want your kitchen to look like? If you look through home remodeling sites, you'll find a plethora of kitchen styles. There are country kitchens that are cute as can be; modern or contemporary kitchens that are sleek, glossy and chic; and traditional kitchens that are cozy, warm and inviting.
The "feel" you land on is your choice, but you'll want to keep the style of the rest of your home in mind. While blending styles (or at least elements of styles) is much more common than it used to be, it can still be pretty jarring to walk from a modern or contemporary family room into a country kitchen. That's particularly important if you choose an open floor plan. Make sure you consider how the kitchen will look when viewed from other areas of the home.
When all is said and done, your kitchen should reflect your lifestyle (how you'll actually use the kitchen) and your personal sense of design style. And whether you're building a new home or remodeling your existing kitchen, we'll be happy to help you make it the kitchen of your dreams!