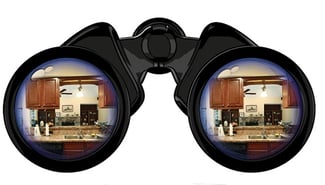 There once was a time when the kitchen was more or less "off limits" to anyone except immediate family. It was a working room, and it often looked like it. If you had company, they didn't venture into that space. If you were really lucky, you might have doors that closed off the kitchen from the dining room so you could enjoy your meal without having to look at dirty dishes.
That's not the world we live in today. Now an increasing number of custom home floor plans incorporate kitchens that are open to one or more rooms in the house. For instance, our Tanglewood floor plan has a kitchen that's open to both the Great Room and the dining room. And in our Summit plan, both the living room and the dining room have an unobstructed view of the kitchen.
So what do you do when your kitchen is open and visible to other areas of your home?
For one thing, don't worry about dirty dishes from prep. Unless it's a total disaster, we've pretty much learned to ignore that. Besides, there's a good chance that your guests were in the kitchen with you to "help" while you were preparing. They probably feel like they were part of the process—and that's actually a big part of the appeal of having an open kitchen. It's more casual and more inclusive.
What you can focus on during the designing of your home is how to make the transition from the kitchen to the dining area flow optimally. That means sitting (in your mind's eye) in the great room and looking into the kitchen. What kind of flooring works? What kind of cabinets will look good in the kitchen and also be pleasing to look at from the outside?
What about defining the space between the kitchen and your other rooms? Will you want a partial wall, or maybe a counter? Or will you rely on something else to clearly define the spaces? Sometimes furniture, area rugs, or subtle changes in paint color can work really well in that capacity.
If none of those solutions work for you—and you just don't like the idea of guests looking at your pots and pans while eating, you may want to modify the plan with a partial wall that's high enough to hide kitchen clutter, but still allows the light, spacious feel of open design.