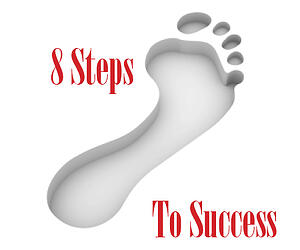 Maybe you're one of those people who has long dreamed of building a custom home—but hasn't yet taken the plunge. For some people the whole concept of a "custom" home is just a bit unnerving. "Custom", after all, implies that you're creating something a little bit different. But don't let that scare you off. Even though your home may be unique, there is a well-established process to the whole custom homebuilding experience. Many others have been down this road—and you can do it, too.
There is a logical progression to the process, and here are six steps that can help ensure the success of your custom homebuilding experience.
Set Your Expectations
This may sound overly simple, but it's a crucial first step in the homebuilding processes. What are your reasons for wanting to build? What's important to you? What are features that are absolutely essential in any home you'd build? What are things that would be nice to have? What are features you'd love to have if money were no object? Where do you want to build? Is there a particular style (interior or exterior) that appeals to you? Write all of these questions down and record your answers before you take the next step.
Create a Budget
Before you begin designing your dream home, you really need to have a budget. The exact cost to build a custom home depends on many different factors (including size, location, and amount of customization). But it's extremely important to figure our what you can really afford. Trying to "go cheap" will frustrate you because you won't get the features or the quality you want. Building beyond your means is a disaster as well. If you're over-extended you won't enjoy the home you build. Create a realistic budget that accurately reflects what you can afford.
Explore Ideas
This is where it starts to get fun. You can start looking at great ideas on home design sites. Or you can check out some of our fantastic floor plans. (And this is where some of the questions you answered in step 1 will begin to bear fruit)
Research and Choose a Builder
It's important to find a builder who understands your ideas, wishes, and preferences. Make sure you research builders with the skills, expertise, and capabilities to make your dreams a reality. Select someone who will listen to you and advise you on how to best accomplish your goals. Here's an article with some specific help for this particular step.
Purchase Land
The lot that you build on has a huge impact on the place you end up calling home—and there's a lot more to selecting your property than finding one that has a nice view. Whether you've already found property, have your eye on a particular piece of land, or haven't even thought about it, we can help you with this!
Financing
All the planning and consulting and dreaming you do won't move you forward until you get your financing lined up. Once you have your budget and have signed a contract you'll want to make sure your financing is nailed down. Nothing is more frustrating than being ready to move forward and then having to wait on the paperwork.
Break Ground
This is where you finally get to see your dreams taking shape. Preparing your property for the foundation of your new home takes a little bit of time, but it's an absolutely critical (dare we say foundational?) step to making sure your home can be built properly and safely.
Building/Construction
Here's where everything from framing, to plumbing, to wiring, to hanging drywall, to painting, and installing flooring and cabinets happens. If you have the right builder, he or she will update you and keep you informed about progress. Now you get to watch see your home taking shape.
Building a custom home is a big deal, but if you take it one step at a time it's a decision you'll be glad you made!