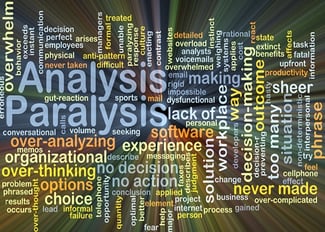 One of the great things about living in an online world when building a custom home in the Poconos is that you have access to so much information. With a click of your mouse (or a swipe of your finger) you can peruse page after page of pictures and descriptions of great floor plans, fantastic finishes, amazing appliances and more.
Sometimes, access to all this information can lead to "analysis paralysis." You've got so many options that it becomes hard to choose. Part of the problem comes from dealing with different aspects of the homebuilding process at the same time. Does it really matter what hardware you choose for your new kitchen if you haven't even decided where the kitchen should be in your new home?
It can be helpful to take a step or two back and focus on the big decisions first—before getting bogged down in the details. Here, we suggest three essential first steps to consider before deciding on the color of your kitchen cabinets.
1. Make a List of What's Really Important
Before you get too involved in specific design elements and finishes, it's helpful to make at least a mental list of what matters most to you in your new home. What are the most important features for you? Will your home be a vacation getaway? Will it be your primary residence? Is it going to be a home for you to retire to? Answering those questions can make it easier to make specific decisions later.
2. Focus On Where You Want to Live
Choosing the location for your new home can be just as important as the physical characteristics of your house. Are you looking for a place that will be part of an existing Poconos community? Or are you looking for more seclusion? You should also consider the size of the lot you'll want.
3. Look at Floor Plans That Match Your Lifestyle
When it's time to think about the design and layout of your home, you'll want to find plans that match your specific lifestyle. Do you plan to entertain larger groups of people? If so, you may want to look at plans that give you lots of open space in your common areas (such as your kitchen and family room). If you enjoy smaller, more formal get-togethers, you may want a plan that offers a separate dining room and/or living room.
Once you've made big decisions like those, you can move on to more detailed decisions about finishes, cabinets, colors, flooring and lighting. But breaking the process up into logical and more manageable pieces can eliminate the analysis paralysis that comes from having too many factors and too much information to process at one time.