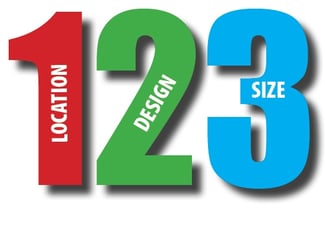 For many individuals considering building a custom home in the Poconos, the process begins with the search for a suitable floor plan. This is an important part of the custom homebuilding process because it helps potential homeowners visualize what living in a particular house might feel like. Here's a helpful post about how you can use a floor plan to do just that.
There are three critical factors you should consider when evaluating any potential plan for your new home in the Poconos: location, design/flow and the size/number of rooms.
Location
You'll want to pay attention to where key rooms are located. What works for someone else may not be the right choice for you. If you have smaller children, for instance, you may want all bedrooms upstairs where you can get to them quickly and easily. That arrangement also keeps kids away from noise in the common rooms that might disrupt their sleep. On the other hand, if you're a bit older, you may want the master bedroom on the main level so you don't have to be concerned about trudging up and down stairs.
Design/Flow
It's also important to consider the flow of traffic from one room to another—particularly in rooms that are used by all family members and guests. If you like to entertain, you may want a general living space that is open and allows people to move freely from one room to another (such as from the kitchen to the family room). Or, if you like quiet dinners with friends, you may want a dining room that's comfortably set off from the kitchen and family room.
Size/Number of Rooms
This may seem a bit obvious, but you'll also want to look at the number of rooms you'll need and what their relative sizes are. If you have smaller children or if you only have the occasional guest, you may not need larger bedrooms. The same is true with the rooms you use for relaxing and entertaining. If you're in the habit of having larger groups of people over, you may want a kitchen/dining/living area that's larger and more open. If you rarely entertain—or do so with smaller groups—you might want a smaller, more intimate space.
The floor plan you choose should match your lifestyle and your family's needs. Fortunately, we have a wide array of floor plans from which to choose, and because you're building a custom home, you'll have the ability to modify those plans—changing the room size, window placement, ceiling height and other elements—to ensure it fits your needs and expectations.