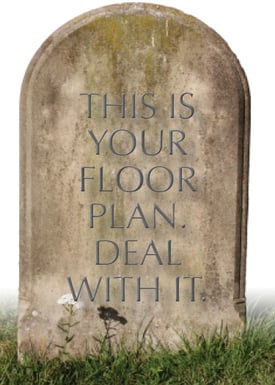 Every business wants to stand apart from the competition. They want potential clients to look at them as something special. Custom homebuilders are no different. We want to stand out from the crowd. But how do you do that in a field where there are a lot of skilled craftsman who use many of the same materials to build what seems to be (at least on the surface) the same thing: a home?
Granted, we are custom homebuilders. That does set us apart to some degree from contractors who build standard, template-like homes. But even in the Poconos, there are a number of custom homebuilders—and some of them are pretty good. What sets Liberty Homes apart?
Maybe one of the best ways to highlight that is to relate a story of a client who came to see me a while back. This woman came into my office and told me that she didn't like a particular floor plan that we had discussed as a possibility for her new home (and by the way, we have quite a few floor plans from which clients can choose). When I asked her what it was she didn't like about the floor plan, she replied that she felt that some of the rooms in the plan were just too small for what she wanted.
I think she was braced for a bit of an argument—or at least a discussion—about how clients can't just muck around with the plans and change them at will. Instead, I told her, "We can fix that!"
I think that came as a bit of a shock to her. Like a lot of people looking to build a home, she was under the impression that she'd have to accept limitations that she didn't like. I basically explained to her that when you build a custom home with us, the floor plan is not written in stone.
You can customize our floor plans to fit your idea of what the perfect home should look like. What ideas or items have you seen on HGTV, on Pinterest, on Houzz, in your local Lowes store, or at your sister-in-law's house that you would like to incorporate into your home? The plan you're looking at isn't carved in stone—it can be adapted.
If you see something you don't like in a plan that otherwise looks good to you, let's talk about it. If you don't like the window placement, the location of the garage door, or the size of the rooms, we can fix that. We can alter, change, adjust, or redesign the plan until you get what you want.
That may not sound like a huge deal, but I really do think it's one of those little things that sets Liberty Homes apart from the competition. And sometimes it's those little things that make a really big difference in how happy you'll be with your new custom home in the Poconos.