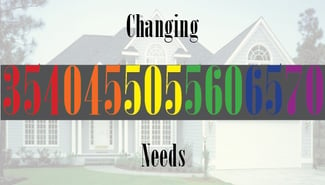 You may have noticed that what's important to people changes over time. Early on, many people are concerned about being popular. How they look and dress seems to matter a lot. Later their focus may shift to a career or other life goals.
It's a bit like that when you're planning to build a home—especially a custom home. What's important today may change in a few years' time. And what's interesting is that these changes are often driven by what we need to be comfortable.
Couples in their 30s and early 40s are often dealing with raising families. When their children are young they may want a home where the bedrooms are away from the loud "social" rooms of the house. As the kids get older, the parents may want their own room removed from the loudness of the kids' rooms!
Adults in their 50s and 60s may entertain more. They may want space that accommodates that. Or once the kids are gone, the parent may want rooms where they can pursue hobbies.
In their later 60s and into their 70s, homeowners may be more concerned about comfort, ease of movement, and safety. That's when main level living (and even things such as wider hallways and strategically placed electrical outlets) can become more important.
Those needs—and changing needs through the years—are why it's important to think ahead when choosing the kind of floor plan you want for your new Poconos custom home. Those needs are also why we offer a variety of different floor plans with different square footage, different numbers of bedrooms and baths, and even different numbers of floors. And we also build these homes in a number of different locations.
Naturally, because these are custom homes, you have the ability to reconfigure the plans to better meet your specific needs—and sense of style, whether that involves changing room sizes, adjusting window placement, changing the garage door location, or other changes.
If you're considering building a custom home in the Poconos, a great way to start is to download our Free Guide to Building a Custom Home in the Poconos. It's packed with helpful information such as: how to budget for a custom home, finding a home site, selecting the perfect builder and designer, designing your indoor and outdoor living spaces, and more.