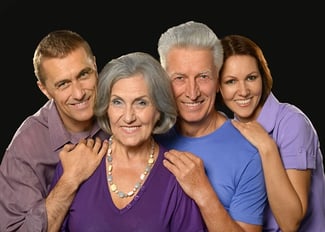 All jokes about in-laws and outlaws aside, there really is something called an in-law apartment (or sometimes a mother-in-law apartment) and it just might be something you should consider for your new home in the Poconos.An in-law apartment is essentially a self-contained living space within a home that's occupied by a family.
What makes up an in-law apartment can vary depending on the needs and desires of the family and the occupant, but here are some common features. An in-law apartment contains a bedroom and its own bathroom, and may also contain a living room or sitting room. Many such apartments also include a kitchen or a kitchenette where simple meals can be prepared. Some also have a small eating area off the kitchen or as part of the living room. A lot of in-law apartments have their own separate entrance so that the occupant can come and go without distrubing family members in the rest of the house. The in-law apartment has access to the rest of the house that can be open–or locked to ensure privacy.
Why might an in-law apartment make sense to include in a new home you're building in the Poconos? As the name implies, the space could be used if the parents of one of the home's owners moves in with the family—but still wants the privacy and feel of their own personal space. An increasing number of maturing Americans are opting out of the traditional retirement home living situation and are choosing to live with family.
It's not just in-laws, however, who are living in these kinds of situation. Sometimes grown children opt to stay at home while attending college—or while they are working at getting their careers started.
One of the big benefits of an in-law apartment is that it allows families and extended families to choose how much privacy they want. Some families choose to do almost everything together—including meals. In those cases, a kitchen or kitchenette in the in-law apartment isn't necessary. In the same way, some families will choose to have a separate entrance for the apartment (for more privacy) and others won't see the need for it.
And because the Poconos region is a popular destination for tourists, some even use this separate space for visiting friends (or even as an airbnb).
While our floor plans don't include specific in-law apartment designs, a number of them, such as the Sagewood lend themselves to the creation of an in-law apartment.
Whether you have aging parents, grown children who are in transition, or friends who love to visit the Poconos, you may want to consider creating an in-law apartment in your new Poconos home.