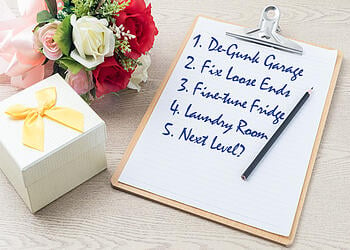 Valentine's Day conjures up images of boxes of chocolates, bouquets of red roses, and a romantic dinner for two. As nice as those things are (and don't overlook them!) what really makes someone feel loved and appreciated is doing something for them that they really want—and maybe can't do for themselves.
Here are 5 things you can do around your Poconos Home to make your Valentine feel loved and appreciated.
De-gunk the Garage
It's easy for the garage to become the forgotten storage wasteland for things that don't have a home elsewhere in the house. When the closets and storage spaces fill up, things find their way to the garage. And as winter wears on, your garage floor can get really "gunky" with all the dirt that settles when the snow melts off your car—and a lot of that dirt gets tracked right into your house. What makes things worse is that this is often the first thing that you and your Valentine see when you enter your home. Make your entrance a nice one: Sweep, clean, and organize the garage (without being asked) to make your Valentine feel welcome at home.
Take Care of Loose Ends
If you've been in your home for a while you've probably noticed that things get a little loose. Drawers don't fit like they should. Knobs and handles feel a little sloppy. Blinds don't close quite like they should. Walk through your house, room-by-room and tighten loose screws. Take care of doorknobs and hinges and anything else that feels loose. You'll be surprised at how much better your house feels when things are tightened down.
Fine-tune the Fridge
Is your Valentine the one that always gets stuck cleaning out the refrigerator? Imagine the pleasant surprise is she came home and found it sparkling clean inside and out. Pull everything out. Get rid of items that are past their "best-used-by" date. Clean the shelves and drawers. But don't stop there. As long as you're at it, pull the fridge out from the wall and vacuum the coils in the back. Your refrigerator will look better, smell better, and run more efficiently. And when you pick your Valentine up off the floor, she'll feel better!
Venture Into No-man's Land
A lot of men never set foot in the laundry room. But that room needs attention, too. Maybe you can make that room a little nicer. Sweep and vacuum to get rid of all that lint and dust. Mop the floor so that if something does fall on the floor it won't need to be washed again. And check to be sure there's enough space to hang clothes coming out of the dryer. Adding another bar for hanging clothes could really be a big help.
Take it to the Next Level
It could be that some of these minor inconveniences point to a bigger issue. Maybe you need to take things to the next level and consider remodeling part (or all) of your home. Ask your Valentine what one renovation would make the biggest positive change in your home. Then schedule a talk with Peter (that's me!) about design ideas, what others in similar situations are doing, and get a budget range to determine if remodeling makes sense.
Those are just a few things that will make your special someone really feel special.
But—just to be safe—do the flowers and dinner, too!