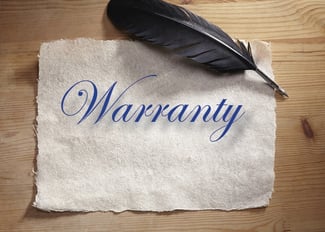 When you're thinking about building a new home in the Poconos, you're probably spending a great deal of time thinking about lots, floor plans, flooring and cabinets for your new kitchen. After all, that's the fun stuff. Thinking about the warranty for your house is probably way down on your list of priorities.
If you're dealing with a reputable, quality builder, you may even wonder why you need to bother thinking about your home warranty. However, sometimes things can go wrong—even with a brand new home built by an experienced, quality builder. If something unfortunate happens, you want to know ahead of time what's covered and what's not. You'll also want to understand the process for making a claim and for resolving any disputes that might arise with the warranty provider.
Most new home warranties offer limited coverage on things such as workmanship and materials. That would include windows, siding, doors and roofing. Most warranties also cover items like HVAC systems, electrical work and general plumbing. There is some variation as to the period of time a warranty is in effect for a new home, however. Probably the most common is a 12-month warranty on the items mentioned above, but it's good to check with your builder up front so you're aware of the terms of your particular warranty ahead of time.
As a matter of fact, it's a good idea to make your warranty a separate item of discussion. You'll want to ask some specific questions, such as:
What is specifically covered?

What is the length of the warranty?

What is the extent of the builder's liability?

Are there written instructions regarding the process?

How much time do I have to make a claim?
You may want to consider talking to the owners of other homes built by your proposed builder to see if and how they have dealt with the warranty process.
There is another crucial question to ask. We've listed it separately because it's important for homeowners to understand (and it's something many homeowners may not realize):
What is not covered by the warranty?
Generally speaking, warranties do not cover things such as household appliances (dishwasher/stove/range/disposal). The also don't cover broken tile or drywall cracks. If you have a sprinkler system for your yard or garden, those are also often not covered. Also, your home warranty doesn't cover items already covered by a manufacturer's warranty.
Most warranties also exclude expenses incurred as a result of a warranty repair construction, such as the need to store household belongings while a repair is being made.
All of this talk about warranties and what they cover – and don't – shouldn't be a major concern. However, it is something you'll want to make sure you understand from the outset. Again, if you're dealing with a reputable builder, you're probably not going to have to worry about these things. But it's good to have a handle on the information before you need it.