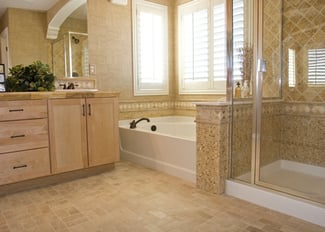 When it comes to designing the Master Bathroom in your new home, one question you'll probably face is whether or not you should include a tub. Over the last few years, the debate on this has varied widely. Not all that long ago, the sense was that if you wanted a really nice "spa-like" bathroom, it meant including a large soaking tub (most likely with water jets).
An increasing number of homeowners, however, were uncomfortable with the amount of water soaking tubs required (and with the energy necessary to keep them warm). Others simply said they didn't use them enough to justify having them. And some simply wanted to use the space for larger, more open showers. By the way, one article we read noticed a significant difference of opinion between men and women. Roughly one third of women expressed a desire for a tub, while less than 10 percent of men wanted one.
What about resale value? The market seems to be split on this. Conventional wisdom held that you needed a tub in the master bath and that not having one could make a home harder to sell. But some realtors counter with the opinion that a lot of their buyers are more interested in bigger showers.
So what's the right call if you're building a custom home? It really comes down to your personal preference. If you find a nice soak in the whirlpool relaxing and comfortable, don't let others tell you it's outdated. It's your home! While it's good to keep resale in mind, it's equally important to remember that you're building the house for you—not for the person who may live there after you do.
The beauty of a custom home is that you get to plan it your way. Find the home that you love (here are more than a dozen floor plans from which to choose) and then adapt the plan to fit your specific needs.