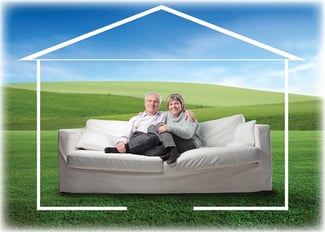 Most people planning on building a new home aren't looking for a short-term solution to their housing needs. They plan to stay in their new home for a while. But how can you plan a new home that will meet your current needs and lifestyle while ensuring you'll be comfortable and safe in the years to come?
There is a growing desire among mature adults in the United States to remain in their homes rather than move to retirement homes or communities. The concept of "aging-in-place" has spurred the growth of new approaches to housing—including what's known in some circles as "trans-generational" design. There is even a website (transgenerational.org) that addresses the topic.
This approach is about much more than just making sure that a home has a few grab bars in the bathrooms. It needs to encompass features such as: Main-level entries for easy access from the outside, and main-floor master suites that allow homeowners to access everything they want/need on one level.
Several of the home plans Liberty Homes offers provide this kind of design, including:
However, we also offer two-story homes that can accommodate larger families with children that are designed with the Master Suite on the first floor, so that parents can stay where they are even after the kids are gone. They include:
There are, however, other practical features that can impact daily living. Some of the things you may want to think about before building begins are:
Self-cleaning countertops, tubs and shower stalls: This can make maintaining your home a lot easier.
Installing Remote controlled window coverings: Down the road that means you won't have to use a ladder or a chair to reach high windows.
Building in Pullout Storage: Having shelves in the kitchen that slide out makes it a lot easier to access items that are stored at the back of a closet or cabinet.
Installing Pocket Doors: These doors slide open and closed (rather than swinging out into the hallway). That can make it so much easier to maneuver in the home should a resident later require a walker or a wheelchair.
Appropriate Positioning of Light Switches and Electrical Outlets: Having outlets at a higher level and light switches at a lower level makes them easier to use—even from a seated position.
Add Keyless-entry locks: In addition to being easier to use, these locks mean that there are no keys to keep track of. And an added safety feature is that your keys can't be stolen.
These are just a few of the things that can be built into a new home—or reengineered into an existing home. All it requires is a bit of thoughtful planning—and professional know-how to create a home that can meet your needs now and for years to come
If you're planning on staying in your new home for a while, make sure it's one that will meet your lifestyle needs now—and for years to come.