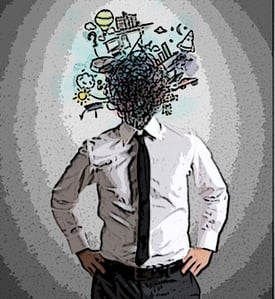 We've all been in situations where someone shares just a little bit too much personal information. Usually a quick comment of "TMI!" suffices to change the topic. But what about when the information you're gathering is for building your dream home in the Poconos?
You need good information (and lots of it) if you're going to make smart decisions about a place you'll call home for years to come. Is it possible to have too much information when it comes to building a new home?
The answer to that question comes in two parts. One has to do with the kind and amount of the information you're collecting. The other has to do with evaluating that information. Let's take a quick look at both.
The Amount and Quality of the Information
As is the case with most things, getting information from a variety of sources is generally a good idea. At Liberty Homes, we've been building custom homes since 1978, and one thing we've noticed is that designers often have quite different opinions on what constitutes good design and décor. Getting several different ideas about what makes a house comfortable and enjoyable can give you a more balanced perspective.
But you can get caught in endless cycles of competing comments. When you evaluate input, ask yourself if you're really learning anything new—or if you're just getting variations on a theme. Don't let yourself get buried in opinions. By the way, if you're looking for some basic information that will actually help you figure out which specifics you need to focus on, you may want to download our Free New Home Buyer's Guide to get started.
Evaluating the Information
It's one thing to collect lots of ideas and information about building the perfect custom home. The next crucial step is sorting that information out. You've got to figure out which pieces of information actually apply to you and make sense in your situation. If someone offers advice on how to set up the perfect kitchen for a $3 million home, it may be great for someone else in that situation. But if your budget is a bit more modest, is that advice really going to do you a lot of good?
That's when it may make sense to have a quick conversation with a professional who specializes in building homes more in line with your ideas and price range. At Liberty Homes, we have a service called "Talk to John," which allows you to set up a no-obligation, 10-minute phone consultation with our senior partner, John Holahan to talk about ideas that can actually help you.
In this short consultation, you'll establish a budget range for what you want to see if the home you have in mind is really financially feasible. You'll hear about what some others in your same situation are doing. You'll hear about current design trends and you'll get answers to your questions about the process. There's no obligation, and if we're not the right fit for you, we'll advise you about possible next steps.
Don't let TMI confuse you or keep you from the Poconos custom home you really want. Focus on getting the right information and on evaluating that information so that you can make decisions that are right for you.