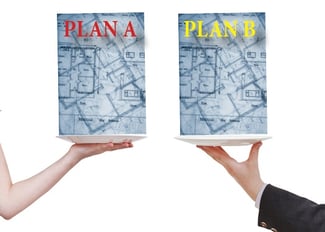 Antoine de Saint-Exupéry, the author and illustrator of the beloved book, "The Little Prince," also wrote the following great piece of advice: "A goal without a plan is just a wish." He probably wasn't thinking of building a custom home in the Poconos when we wrote that, but it's still sound counsel. Great homes don't "just happen" – they require a combination of quality craftsmanship and good planning.
It's one thing to know the importance of having a good plan, and it's quite something else to actually have a good floor plan for your new Poconos home. At Liberty Homes, we offer a wide variety of floor plans from which to choose. But how do you evaluate plans so that you end up with the one that's right for you? Here are some tips to help you make the right choice.
Style
Some people may say, "It's what's inside that counts," but you want the exterior of your home to reflect your personality and sense of style, as well. Choose a style (whether it's more of an A-frame look, a stone-faced Cape Cod style or a modified ranch style) that makes you happy to come home to.
Size
There are a couple of things to consider when thinking about size. Total square footage is one consideration. How much space will make you comfortable? If you're really looking for a small weekend or vacation home, you may not need a lot of space—particularly if you don't entertain often or have many visitors. And of course, the number of bedrooms should be a key consideration.
Levels
Will you want single-level living or a home with two stories? Some homes (such as our Summit model) offer bedrooms, baths and a loft on the upper level, but have everything you need for single-level living on the first floor. So if you have younger guests (including grandchildren, for instance), they can be comfortable on the upper floor and you can enjoy the comfort and convenience of everything else on the first level.
Layout
Your lifestyle should dictate the specific layout of your home. If you entertain a lot, you may want a larger, more open kitchen/family room/dining area. You may even want a larger deck for outdoor entertaining.
We have quite a variety of options from which to choose, and we can build for you anywhere in the Poconos. But if you don't see a floor plan or style of home that meets your expectations, don't worry, because we have thousands of floor plans and styles to choose from!