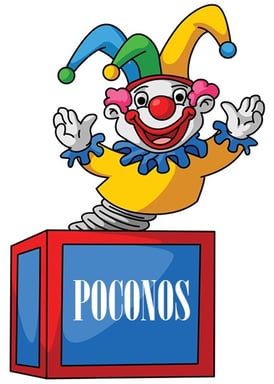 Every region has its own unique characteristics, attitudes, and quirks. The Poconos Mountain region, of course, is no exception. That being saidn here are a few things about the Poconos that may surprise you.
1. Locals in This Area Can Actually Pronounce Those Names That Totally Mystify Outsiders
Casual visitors to the Poconos region will scratch their heads and try to untangle their tongues after trying to pronounce local names such as Nesquehoning, Aquashicola, Wallenpaupack, and Hopatcong. For the locals, it's really no big deal. And it's actually a good way to tell locals from the visitors. But don't worry, after you live here a while these names will roll off your tongue like water off a duck's back!
2. Chains Are Fine for Tires But Not For Stores
Nobody in the area will think twice if you happen to use chains on your tires to get around in the winter. Chain stores, however, are a different matter altogether. The Poconos have long been known as a kind of "anti-urban-sprawl" area. So don't expect to see those ubiquitous stores here that you're used to seeing on every street corner in suburbia. The one exception to that would have to be Wawa. You'll find plenty of these quick stop, iced drink, and submarine sandwich shops scattered throughout the region.
3. People Here Take Outdoor Multi-tasking to a New Level
We're not talking about doing several things at the same time. What we're referring to is that people in the Poconos tend to have mastered multiple outdoor activities at a very early age. It's hard to find residents who haven't been skiing, whitewater rafting, kayaking, fishing, hiking, or taken a refreshing dip under a waterfall. And many of them continue to do all of them. Once you see how easily accessible all these activities are, you'll probably fit in with the locals just fine.
There's a lot to discover here in the Poconos. And it's all part of being a Poconos insider! If you'd like the insider's scoop when it comes to homebuilding trends and new opportunities in the region, we invite you to sign up to be a Poconos Insider and receive regular email updates on topics such as: Building or Buying a New Home in the Poconos (and how to avoid the pitfalls), Remodeling an Existing Home (and how to find reputable contractors), Learning what's new in the Poconos (new activities, restaurants, and things to do), and Advice for Homeowners—as well as special offers and promotions. Don't worry: We hate SPAM as much as you do, so we will never rent or sell your email address.