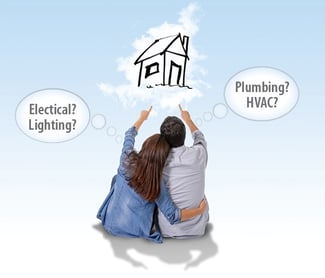 What are the first things you think about when you're considering building a custom home in the Poconos?
You might think about floor plans, how much space you need and how you want that space configured. We have lots of floor plan options for both single-level and multilevel homes in a variety of styles and sizes.
You might think about finding the best location for your new home. We build great custom homes in a variety of communities around the Poconos region. We can also build on your lot or even help you find just the right piece of property elsewhere.
The funny thing about the beginning of the custom homebuilding process is that most people tend to ignore the less glamorous aspects, such as plumbing, electrical, HVAC systems, lighting and insulation. We get that. It's hard to get all worked up when you see a roll of insulation! The thing is, those boring things that you don't think about early in the process are often the things that end up making you the most comfortable in your home—whether you actually see them or not.
Paying attention to the more mundane features of your home won't simply make you more comfortable—it can also save you a lot of money. In fact, your home's energy use is the second highest cost of home ownership! That deserves your attention! And that's why you want to make sure you're taking every opportunity to build a home that will be easy on your wallet—and on the environment around you.
As certified RESNET EnergySmart builders, we'll make sure your Poconos home is as energy-efficient as possible. The Residential Energy Services Network (RESNET) was founded in 1995 as an independent, nonprofit organization committed to helping homeowners reduce the cost of their utility bills by making their homes more energy-efficient. RESNET developed the HERS (Home Energy Rating System) as an industry standard and nationally recognized system for inspecting, testing and calculating a home's energy system.