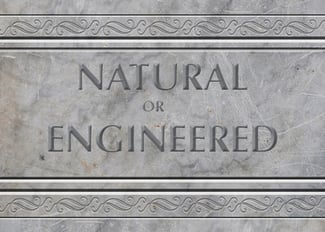 As a design element, stone has become increasingly popular because it provides color and texture that can really add personality to your kitchen. You have your choice between natural and engineered (man-made) stone for those purposes. So which one is the best choice?
There are numerous natural stone varieties from which to choose, but to keep things simple, we'll compare engineered stone to granite, since it's one of the most popular choices today.
Granite is formed when molten rock is forced between other layers deep in the earth's crust. It's comprised of a variety of natural minerals, including quartz, tourmaline, topaz, garnet and titanite, which all contribute to its beautiful appearance. By contrast, engineered stone is manufactured and is made up of roughly 95 percent natural stone (generally quartz) and 5 percent resin. The natural stone crystals are ground together and then heated to create a solid surface.
There are some differences in the appearances of the two kinds of stone. Often, granite will include natural flaws and irregularities, giving each piece a unique and intriguing look. Even though there are strong similarities in natural stone, you won't find two slabs of granite that are identical. If that kind of variety appeals to you, you may prefer granite to engineered stone, which will offer "perfect" consistency. That consistency, however, also means fewer color variations – something you'll want to bear in mind as you choose.
The two types of stone also have differing degrees of durability and strength. While both materials are very durable and relatively easy to maintain, engineered stone is harder and heavier than granite and highly resistant to chipping or fracturing. The same natural flaws and irregularities that make granite beautiful make it somewhat more susceptible to breakage. This generally is not an issue with granite—particularly if it is properly sealed following installation. It is, however, recommended that granite countertops be sealed once a year.
Both surfaces are easy to clean and maintain. Mild cleaners and a damp cloth will generally take care of both varieties. Granite is a bit more likely to stain, as it's more porous (another reason to make sure it is properly sealed). Engineered stone is nonporous, however, which makes it a good choice for kitchen use, since it is less likely to grow bacteria.
One notable difference is that if a quartz counter does become scratched, it is virtually impossible to repair. On the other hand, it's possible to repair a small chip or scratch in granite.
When it comes to cost, there is (generally) not a lot of difference between natural granite and engineered stone—especially if you are comparing the engineered stone to mid-range granite – though there are some granite colors that may cost more. And if you're considering the impact to resale value, granite does tend to command a slightly higher price.
Both surfaces are very durable and beautiful. In most cases, your decision between natural and engineered stone countertops will come down to aesthetics. Granite is beautifully unique, and engineered stone is consistently beautiful. If the manufactured variety has an edge in aesthetics, it's that the color of engineered stone can be tweaked a bit more, so it may be easier to find a color that coordinates with the rest of your décor.
Of course, countertops are just one element in creating the perfect kitchen. If you're looking for additional ideas and design tips, download our free Creating Your Ideal Kitchen e-book!