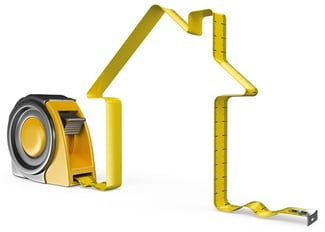 What if you love the location and basic layout of your current Poconos home—but just want (or need) a little extra space? An addition to your existing home may just solve your dilemma, without the hassle and expense of selling and moving. But what kind of addition makes the most sense?
That, of course, depends on your particular situation and requirements. Here are a few ideas you might want to consider if you're finding yourself a little cramped in your current quarters.
Go Up or Out: Depending on the layout of your current home—and the lot you're on—you may have a choice between expanding outward, or upward. If you're on a lot where you really can't (or prefer not to) expand your home's footprint, you may want to add a second level. You can add additional bedrooms if you find you habitually run out of sleeping space for guests. You could create a loft area that's great for reading—or watching movies. That way your family room on the main level can continue to be a conversation space rather than being dominated by a television.
Multi-Use Rooms: With a bit of advanced planning, you can create rooms that have multiple uses (or can be easily adapted). You might want a room that doubles as a craft room and an exercise space (for yoga, for example). Of you might want to create a room that you use as a home office that has a hide-away bed for when guests come.
Opening Up to the Outdoors: Maybe you enjoy entertaining outdoors. You could add a family room that opens up to your deck (or add a deck if you don't have one). Or, if you enjoy eating outdoors, you might add a covered deck that opens up off the kitchen and allows you to easily entertain by opening your kitchen to the deck.
Adding Space Nobody Sees: Sometimes it's the hidden spaces that can have the most impact. If you're adding an addition, you can build in extra storage (does anyone ever have too much storage space?). Nobody else will ever see that space, but providing extra storage can eliminate clutter in other areas of your home—making it feel more spacious.
Creating a Private Get-Away: If you've always dreamed of having a place that's away from distraction and gives you a place to read quietly or soak in the tub, you can add a Master Suite. And because you're building it from scratch, you control the layout, the size of the room, the finishes, the ceiling structure, the built-in elements (such as lighting and even built-in entertainment features), the size and shape of the windows, and more.
You don't have to move to get what you want. You may just need to explore ways that you can get the most out of your existing home. If you're wondering how to get started, I'd encourage you to schedule a free Home Remodeling Consultation. You'll learn important information about:
The remodeling process

Pricing and options available for your home

Answers to your specific questions

And available resources to help you plan the perfect remodel