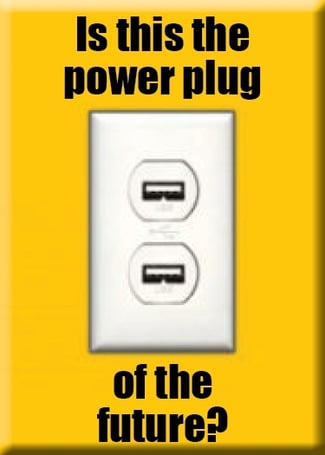 Technology for the home continues to develop at an amazing pace. What's interesting (at least in our mind) is that the trends have moved beyond "gadgets" that are interesting and maybe kind of fun to play with, to things that really make our lives easier and more comfortable on a daily basis.
One example is that some homeowners are wiring their homes with USB plugs. Sure, it would be convenient to plug in your USB devices anywhere you want to around the house, but there's more. There are already lots of smaller devices (things such as blenders or space heaters) that are currently powered via USB. And The Economist is speculating that the USB plug may even supplant conventional outlets altogether. When new standards are introduced next year, you could actually use the same outlet to power your TV and pull data from the Internet! (For more on this topic, check out this Gizmodo article)
Here are some other new technologies you might want to consider when building a new custom home:
Smart Garage Door Openers
Why have a separate device for opening your garage door? A lot of home break-ins occur when thieves steal garage door remotes from parked cars. You always have your phone with you, right? Chamberlain MyQ Garage lets you open your garage door with a simple tap on the screen of your phone or tablet.
Smart Thermostats
We already have programmable thermostats, but now they're getting smart. The Nest Learning Thermostat learns your schedule in about a week and programs itself to control your home's internal temperature. Or, you can manually adjust things from your smartphone. All this can add up to a savings of 20 percent on your utility bill.
Smart Air Conditioners
If you're away from home for several hours during the summer, you know what it's like to walk into a hot house. And yet, you hate to waste energy cooling the house when nobody is there. So you crank the AC as low as it will go and blast the fan as high as it will go to get relief. That's actually not very efficient (and costs your money). The Quirky Aros Window Air Conditioner lets you turn on your smart AC with your phone and gradually cool things off before you get there.
Technology never rests. We don't either! We're always on the lookout for new ideas to make your new home in the Poconos as comfortable as possible!