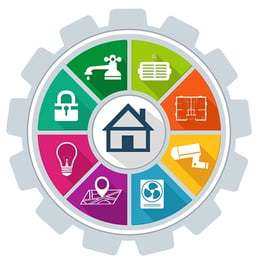 When you think of building a new home in the Poconos region, you probably spend at least a little bit of time thinking about what kind of technology should go into your new home. Even if you're not a bonafide "tech head" it's hard to ignore new technology trends for the home.
Technology for the home isn't all about gizmos and gadgets. Sure, there are refrigerators that have built-in cameras, so that you can look at what's on the shelves while you're standing at the grocery store. But the things that are most popular are technologies that help you save money, conserve energy (while making things easier for the planet), and make your life more comfortable and safe.
Lighting
A recent study indicates that by 2016, 80 percent of new homes built by those surveyed will include LEDs. California's Title 24 already requires hardwired LEDs in new home construction. And while Pennsylvania and New Jersey may not have that requirement, it's still projected that LEDs will capture 80 percent of the lighting market by 2020. LEDs are much more efficient (saving energy and money), and many people prefer the light they provide to CFL bulbs.
Aging in Place
Another report (the Smart Home Platforms for Health) indicates that more than 40 percent of U.S. broadband households want to be able to receive medical alerts through a smart phone or other connected platform. That makes it easier for someone planning to retire in a quiet place such as the Poconos—knowing that they will be safe and secure.
Reduced Insurance Costs
According to The Boston Globe insurance companies Liberty Mutual and American Family Insurance Co. have started to offer discounts (currently in a limited number of states) to customers who install wireless smoke and carbon monoxide detectors and agree to share data from the devices with the insurer. The basic idea is that a smarter home (especially with regard to fire safety) should be cheaper to insure.
Considering new technology for your home in the Poconos isn't all about glitz and glamor and games. It's also about making your life easier, more comfortable, and safer. And it's also an investment that will pay off should you decide to sell because more and more homebuyers are demanding these kinds of features in the homes they want to buy.