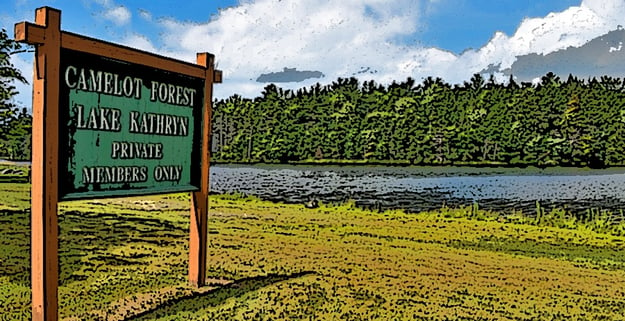 Hearing the name Camelot Forest may conjure up images of King Arthur, Lady Guinevere, Sir Lancelot, and the rest of the Knights of the Round Table. It's a fairly safe bet, however, that Arthur—in all of his splendor—was never as comfortable in his Camelot as the residents of Camelot Forest in the Poconos. Camelot Forest is just one of the areas where Liberty Homes builds comfortable and inviting homes for vacationing, retirement living, or year-round family living.
The area itself is ideally situated—located within close proximity to Pocono Lake, and Lake Harmony, right on the edge of the Thomas Darling Preserve. Nearby Lake Guenevere boasts great swimming, with a lifeguard on duty. And it's also a great spot for catch-and-release fishing.
State Games Lands, State Parks, and multiple conservation areas surround the community. You get the feeling that you're a million miles from the distractions of society. And yet the community is just minutes from Interstate 80—providing easy access to the Delaware Water Gap, numerous Pocono skiing areas, and Poconos Raceway (Home of the "Tricky Triangle"). Even major metro areas such as New York City and Philadelphia are within easy driving distance.
There are a ton of activities and sights to see in the surrounding area all year long. Here's a post that highlights some of the best family getaways in the Poconos that are practically in your backyard.
Of course, one thing that makes Camelot Forest a great place to live is the selection of fine homes that can be built there. Liberty Homes offers a wide selection of options.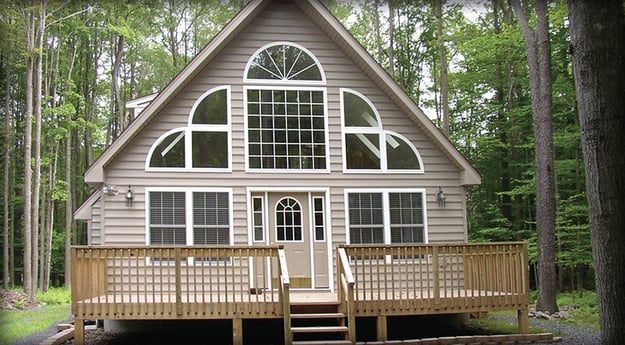 If you're looking for a Chalet-style home that looks like it was built to be on the lake, you'll want to check out the Lakewood II you see pictured here.
If you had a more "traditional" style home in mind, you might want to take a look at the 3 Bedrooms, 2 Bathroom, 2-car garage Arden shown here that features a first floor Master Suite.
Those are just two of the many floor plan options available to you if you want to build a new Camelot Forest home.
Great home options, beautifully serene surroundings, and plenty of great activities in the area are just a few of the reasons that make Camelot Forest a favorite Pocono community. (By the way, you can download a free Guide to Area Activities guide here, that tells you about fun family activities; amazing dining in the area; museums; history;the arts; local parks; shopping and adult fun, and more)
You may not actually get to see King Arthur and the gang when you build in Camelot Forest, but it's not all that hard to imagine them slipping through the trees that surround your new home!