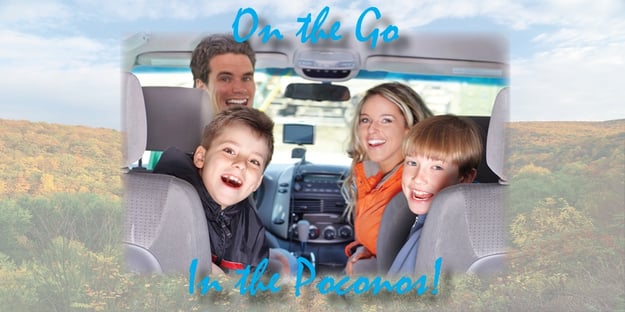 There's a reason that families love coming to the Poconos Mountains! It's because there are so many fun things to do! And while we don't have room to tell you about all of the fun activities the Poconos have to offer, we'd like to highlight at least some of our favorites. Because we're headed into the summer season, we'll focus mostly on some of the great outdoor activities you can explore.
Bushkill Falls is often called the "Niagara of Pennsylvania." And while they may not quite measure up to the stature of those well-known cascades, these 1000-foot-tall falls are definitely worth exploring. You'll discover that Bushkill Falls is actually a series of eight waterfalls—accessible by a series of walking trails and bridges. It's great exercise and affords fantastic views. The area is also home to shops, small lakes where you can fish and paddleboat. Your family can even enjoy a game of mini-golf. There are grills and picnic tables in the area, so you can prepare your own picnic if you want.
Who says you have to go down to the Shore to enjoy the beach? This beach in the heart of the Poconos has everything your family could want from a water park. Enjoy thrill rides, tube slides, multiple pools, a full arcade, mat slides, head-to-head slide races, a FlowRider wave machine, a wave pool, a lazy river, a sky ride and much more! You can rent poolside cabanas that come with picnic tables, lounge chairs, and deck chairs. You can bring your own food, or purchase food on site. And if you want to spend the night, there are a number of lodging options in the vicinity.
Get to know your family out on the trails of what is regarded by many to be one of the most scenic areas in the entire Northeast. This area offers much more than just great views, however. Your family can enjoy canoeing, swimming, fishing, hiking, rock climbing, rafting, mountain biking and more. There are hundreds of miles of trails to explore throughout the area. And if you want to fish, the Delaware River boasts more than 60 varieties of fish, including striped bass, carp, trout, walleye, and catfish. Or get out on the water with a kayak or a canoe. And you can even show your kids that not all swimming takes place in pools!
If you're looking for a bit more of an adrenaline rush with your water experience, you might want to check out Whitewater Challengers! These whitewater rafting trips are a blast. And while there's plenty of excitement, no experience is required, and the organizers cater to children as young as 5. It's truly a wet and wild adventure that the whole family can enjoy!
There is simply something magical about trains. The Scranton Limited short excursion rides here are great for families. They run frequently and are inexpensive fun (just $3 for ages 6 and older). Kids from six to 12 years of age can partake in the junior ranger program to explore the history of the Poconos area and the trains that served the region. It's a great way to make history come alive. There are also two on-site museums that use artifacts, movies, and photos to tell the history of these steam engines.
There are plenty of parks in the Poconos but Promised Land State Park is a good way to introduce your family to the wonders of Pennsylvania parks. The beautiful Delaware State Forest surrounds this 3,000-acre park—making it a popular destination for hiking, fishing, swimming, camping, trail biking, and horseback riding. It's a great way to introduce kids to the great outdoors.
Even if the weather doesn't cooperate your family can still have a ton of fun at the largest indoor water park in North America! Your family can explore 220,000 square feet of wet and wild fun! Try stand-up surfing or body boarding on the FlowRider. You can also try the twists and turns of the Anaconda and Swahili Swirl water slides, or take a relaxing lazy river, or ride the waves in the wave pool. There are activities (in and out of the water) for every age group.
If you'd like to check out some of the other family activities around the region, click here to download our free Guide to Area Activities that also includes local dining, museums, shopping, and more!