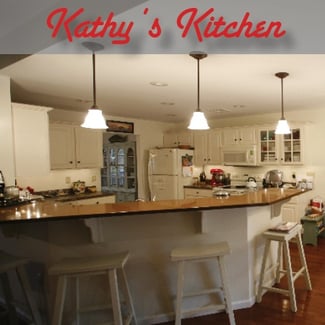 Starting out with a great kitchen floor plan is essential if you want a kitchen where you'll enjoy working and entertaining. What makes it a great floor plan is if it fits your specific lifestyle and the flow of traffic in your house. Our floor plans offer you a wide variety of options when it comes to kitchens: from "eat-in" kitchens to kitchens that flow into your dining room or Great Room. You can see them for yourself here.
Most of us, however, want a little more from our kitchens. We want them to reflect our personality and to be comfortable and easy-to-use for us. So what are some of the features of a kitchen that will make it more personal for you? Here are a few ideas to get you thinking.
Add An Island Cook Top
An advantage to having a cooking surface on an island is that you have lots of space around you. You can even add a warming drawer below if you want. And with a downdraft style exhaust system, you won't need a range hood—leaving the space nice and open.
Install Double Ovens
If you do some serious cooking or entertaining, a double oven is more than just nice—it can be an essential. Use the upper oven for baking (at eye-level, no less!) and use the lower one for additional items or to keep things warm.
Storage
Nobody ever seems to have too much storage. Look for ways to take advantage of unused space. Corner storage in your lower cabinets can be a great solution. Think of it as a "Lazy Susan" on steroids. You can take advantage of space in the corners that you'd otherwise never be able to reach!
More Storage
"Appliance Garages" are increasingly popular for appliances that you might use regularly, but don't want out in plain sight all the time. You can pull out things like a mixer or a bread machine when you need it and then slip it into its "garage" when you want counter space.
Slide-Out Drawers
If you ever get tired of trying to reach dishes or containers at the back of deep cabinets, you can solve that problem with drawers that have extension hardware. Instead of standing on your head trying to reach stuff at the back, you simply pull it out where you can get at it easily.
Built-in Trash and Recycling Containers
You can install these in the cabinets next to your sink or in the pantry—wherever it's most convenient for you. Trash and recycle containers fit one-behind-the-other to take up less space and slide out for easy access and for ease of removal on trash collection day.
Those are just a few ideas to get your creative juices going. What would you add to the list?