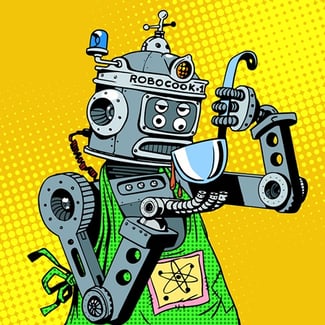 Sometimes you can't help but wonder what our pioneering forefathers would think about all of the gadgets we have in our homes—and especially in our kitchens. But then again, most of us wouldn't want to build a fire and boil water for our first cup of coffee each morning (unless we're camping).
Measure Your Success with Drop: Properly measuring ingredients is the best way to get perfect baking results. With the Drop scale, you simply download the related app on your smartphone and use the scale to measure each ingredient. The recipe platform actually tells you when you've added enough, so you're sure to get great, consistent results every time.
Mix Cocktails Like a Pro with Somabar: You can make customizable cocktails with the push of a button. The Somabar is a countertop machine controlled by an app that not only mixes perfect cocktails, but also suggests cocktails based on the ingredients you have on hand. (This gadget is still in the kickstarter phase, so it's not available, yet—but keep an eye out for it!)
Ramen So Easy Your Kids (or Grandkids) Can Make It: The Ouchi de Ramen-ya (which translates to "Ramen Restaurant in Your Home") makes creating ramen noodles super fun and super easy.
No More Under- or Over-cooked Meals with Pantelligent: This high-tech frying pan uses an app and central temperature gauge to let you know when the food you're cooking has reached the ideal temperature.
Brew Your Favorite Beers at Home: PicoBrew lets you brew your own 5-liter compostable boxes of beer using licensed recipes from some 70 craft brewers (including Dogfish Head) and 350 worldwide home-brewers. And it only takes about a week!
Never Burn Your Lips Again: The "Four-Eyed-RoboCook Soup Tester" (pictured above) will keep you from scalding your lips when you test your homemade soup to see if it's done. OK. This doesn't really exist—but we really think it should!
Of course, all of these great gadgets deserve a home in the perfect kitchen. We can build your dream kitchen in your Poconos home. Take a look at some of the kitchens we've created in the area recently and let us help you find the perfect home for your great new kitchen gadgets!