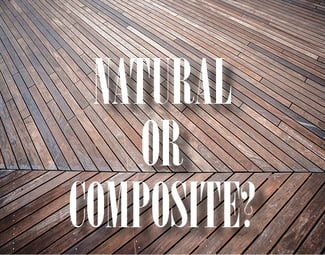 One of the great things about living in the Poconos is being out in nature. That's one reason several of the floor plans we offer (such as the Lakewood II and the Summit) include decks that allow you to enjoy your beautiful Poconos surroundings—even as you relax at home!
When it comes to new decks, however (whether you're building one on your new home, adding a deck or replacing one on an existing home), you'll have a choice between installing a natural wood deck or a composite deck. Which makes more sense for you?
There are probably three main criteria to consider when making your decision: price, maintenance and aesthetics. We'll take a brief look at those three factors. Bear in mind that composite decking has come a long way over the past two decades. If you have early-generation composites in mind, you may need to revise your thinking a bit.
Price
Kompareit.com has done a helpful comparison of natural and composite deck materials that gives you a good idea of how the two types of materials stack up. The price of a wood deck depends on the type of wood, the size and configuration of the deck and the difficulty of installation. Plan to spend $15 to $25 per square foot for pressure-treated woods, such as Southern yellow pine and $25 to $30 per square foot for high-end woods, such as cedar and redwood. A 16'x20' deck might run from $4,800 to $8,000 for pressure-treated pine and $8,000 to $9,600 for cedar or redwood.
Maintenance
This is where composite decks really shine. Old composite materials didn't hold up as well. They could fade and stain and required periodic washing. Newer materials are really strong and can last up to 25 years with virtually no maintenance. Wood decks can rot, split, swell, twist and fade. They also require annual painting, staining or sealing. Not only is that more work for the homeowner, it's also an added expense. Be aware, however, that not all composite materials are created equal. For best results, stick with a higher-end name, such as Trex or Timbertech.
Aesthetics
How your deck looks and feels is very important. Some homeowners simply don't like anything that's not wood. That's a valid consideration. It's also important to know that not all composites look and feel the same. Higher-end composite material looks and feels a lot like natural wood. Some lower-end composites still have a bit of a plastic look and feel. Of course, cheaper wood decks won't hold up as well, either. Composite decks are UV resistant and won't fade or lighten over time like natural wood does.
What's right for you? When you compare price, you have to factor in maintenance costs to get a true comparison. If all you consider is maintenance, composite decks are hard to beat. But if the look and feel of natural wood is important to you, that may be the way to go, even knowing you'll have some additional work and expense down the road.