A Look at Liberty Homes' Most Popular Floor Plans
We've helped a lot of people build their dream homes since 1978. And whether they choose to build a vacation home, a place to retire, or a permanent family home, we've seen how important it is to choose the right floor plan before building begins. That's because your floor plan really determines the look, feel, and flow of your new home. So, when choosing, you'll want to keep style, size, levels, and layout in mind (and here's a post that looks at those elements in a bit more detail). Let's take a look at Liberty Homes' most popular floor plans.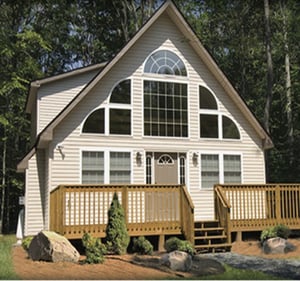 The Lakewood model is what many people think of when they conjure up an image of a home in the Poconos. It has a refined, rustic cabin feel with a simple floor plan that just inspires you to relax. The large windows let in lots of natural light and provide terrific mountain views – probably the reason you want to move to the Poconos in the first place. Plus, the spacious deck provides you with plenty of space to enjoy being outside—even when you're at home.
Of course, the exterior of the home is only part of the story. A look at the interior floor plan reveals why this particular home design is so popular.
The lower level features two bedrooms with a full bath that make it great for a couple of kids' rooms or a guest room and a home office. The kitchen opens onto a large, open dining/family room area. The cathedral ceiling above these two rooms creates additional visual space and makes these common rooms feel even roomier. On top of that, the dining area and living room look out onto a full-length deck—providing great views of the beautiful surroundings.

The upper level contains the master bedroom and bathroom along with a walk-in closet and ample storage space. There is also a loft area off the master bedroom that could also double as a study—with a view to the dining/family room below. It's a great plan for those who like to entertain and also want their master bedroom to be separate from the rest of the home. Click here for a more detailed view of the plan.
The Sagewood model also remains very popular with our clients. One thing that many of them appreciate its "cottage" feel, which offers an open floor plan concept that maximizes the available space. The Sagewood floor plan conveniently locates the master bedroom/bath and two additional bedrooms on a single level. That's where you'll also find the kitchen, dining area, and great room. The attached, 2-car garage and a large back deck are also on the same level. That single-level living concept makes the Sagewood an ideal design for people who are considering retiring in the Poconos. The home is easy to get around in and easier to maintain—both now and for years to come.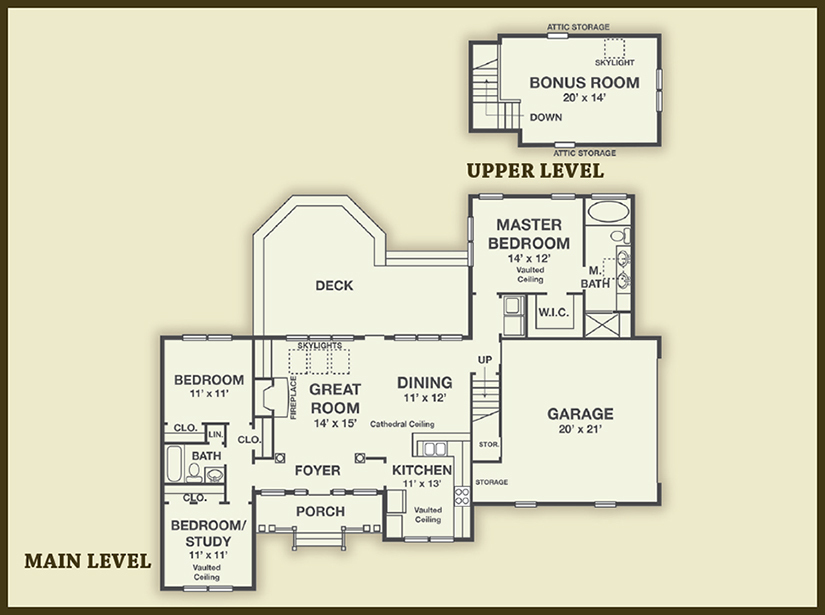 The Sagewood does also come with a bonus room on the upper level. That can be used as a hobby room, a home theatre room, or as a great slumber-party room for the grandkids. Click here for a more detailed view of the plan.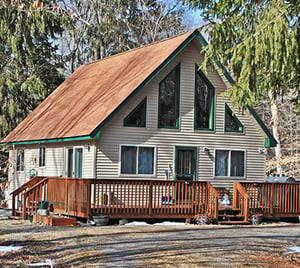 The Chateau continues to be one of our most popular floor plans. It also happens to be our most affordable plan. That makes it a great choice for people who want to use it as a vacation home—or for people who simply don't require the space of a larger home. Because of easy access to the Poconos, this area has become increasingly popular for people who want to leave the hustle and bustle of New York or Philadelphia for some quiet time away from it all. Of course, there's much more to the Chateau than affordability and easy access.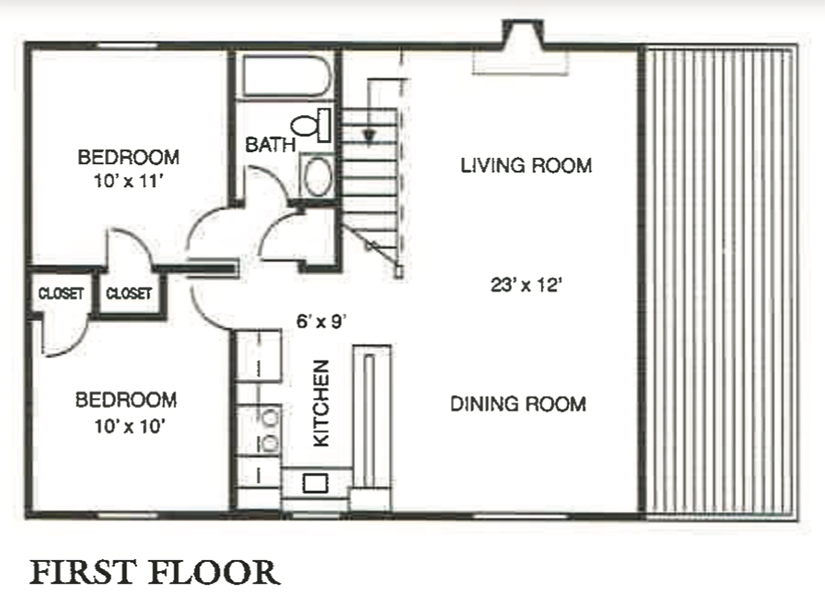 This floor plan features two bedrooms and a bath on the main level, where you'll also find the galley-style kitchen that opens to a dining area and living room space bordered by a deck that runs the width of the house.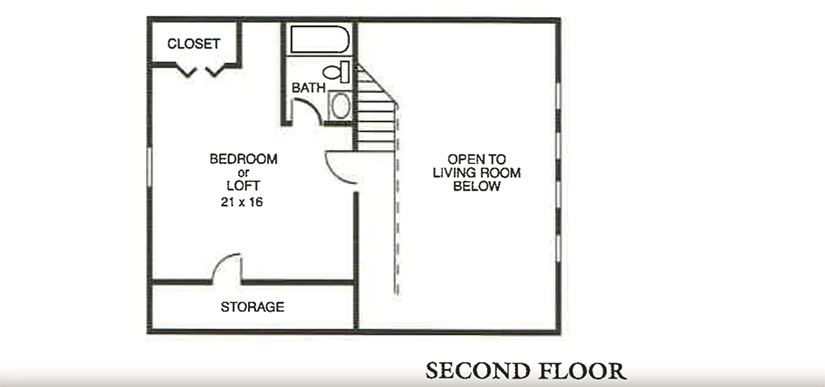 Upstairs you'll find a large bedroom with a full bath and a storage area. From the hallway outside the bedroom/loft, you'll have a view of the living room below. This plan allows plenty of sleeping space and a great area for families and/or guest to congregate.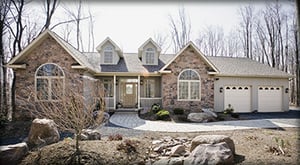 The Baldwin is also a very popular plan for our clients who like the look at feel of a single-level home with plenty of space and a bit more of a "traditional" style. The master bedroom suite in the Baldwin features a corner tub and along with trey and coffered ceilings for a touch of elegance. This three-bedroom two-bathroom home also offers you the choice of a one or two-car attached garage.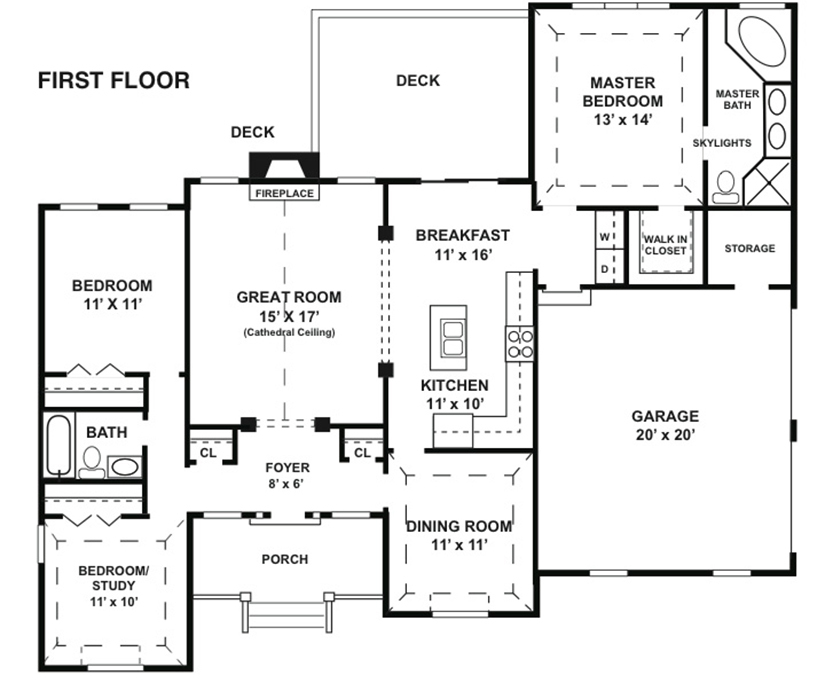 There are also two additional bedrooms (one could easily double as a study or a home office). The front porch opens into a foyer for a bit more of a formal entryway. There is a large great room (with cathedral ceiling). The kitchen opens onto a breakfast area that looks out on the rear deck. There is a separate dining area for comfortable dining and entertaining. It's a great plan for those who want a bit more of a traditional and somewhat more formal approach that's still in the heart of nature.
Other Options
While these floor plans are among our most popular choices, you have plenty of other options. Check out our Design Library to take a look at other floor plans that may better suit your specific needs. We also offer a number of home packages that combine floor plans (including some of those above) with land so that you have everything together in a single package. Click here to take a look at those options!