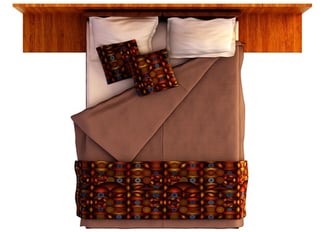 Next to the placement and layout of the kitchen, where you locate your master bedroom may be the most important logistical decision you make about your new Poconos home.
Some homeowners prefer to position their master bedroom on an upper level to keep it away from the hustle and bustle (and noise) of the home's common areas. There seems to be increasing interest, however, in locating the master suite on the main level.
Since it's your home, you'll probably be the last one up and moving about, even if you're entertaining guests. Chances are, noise or movement won't disturb you once you decide to retire for the night. Having your master suite on the main level is also awfully convenient. If you want a late night snack or to watch a bit of television without disturbing anyone, you have easy access to the kitchen or family room. And since most of your laundry (clothing and sheets) is probably generated in your bedroom, it's convenient to have the laundry room on the same level.
Of course, it's also nice not to have to navigate the stairs every night. More and more Americans plan to remain in their own homes for as long as possible. If you belong to that camp, having your master bedroom on the main level can enable you to age in place safely and conveniently for longer.
The majority of the new homes we build in the Poconos area offer main-level master bedroom living. And even if you don't find your ideal floor plan among the many options we list on our website, we can give you access to many, many other plans—and you're sure to find one that matches your needs and desires.