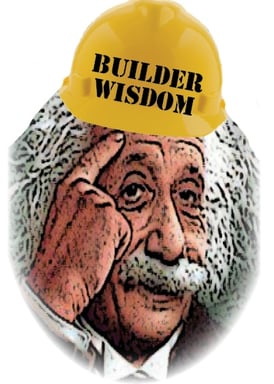 There are a lot of great resources available to individuals who are thinking about building a new custom home. Pinterest is packed with pictures of great home decorating ideas. Houzz.com has all kinds of inspiring tips and images that can help you plan the home of your dreams. Companies that make the appliances and electrical systems you may want to put in your home can provide additional insights for planning.
Many homebuilder sites have floor plans that you can peruse to get an idea of how you'd like your home's layout to look and feel. For instance, we offer a wide variety of plans in different sizes and configurations that you can see by clicking here.
There is a resource, however, that many homeowners overlook when it comes to creating the home of your dreams: Your builder's experience and expertise. A builder who has worked on custom homes for years can build up a formidable amount of wisdom when it comes to tackling tricky requests. Sure, any builder can offer you an opinon about which countertops might look good in your new kitchen and stand up to the kind of use you'll give them. And most builders can advise you about which kind of flooring makes the most sense for your living room or dining room.
Experienced custom builders, however, can draw on their years of expertise to solve more complex problems as well. They can offer suggestions for solutions that go beyond what you see in your basic floor plans. If you want to change the size of the rooms in a plan or the location of doors or windows, an experienced builder can tell you how that can be done—and can give you an accurate estimate of what that will cost you. Maybe you like the general layout of a plan, but want to change the configuration of the kitchen to better suit your lifestyle. An experienced builder can tell you what structural issues are involved, and what a significant change in the plans will cost.
Builders with a few homes under their toolbelts can also be pretty creative with space. They may be able to "find" storage space in places you've never considered.
Sometimes what you need is basic information to get started. That's why we offer our "Talk to Peter" service where you can set up a 10-minute phone conversation that will give you a buget range for the project your have in mind, some examples of what others in your situation have done, some design trends for you to consider, and more. Click here for more information or to set up a call.
But don't overlook your potential builder's experience and expertise for those more complex questions. We've been adding to our expertise since 1978—and we'd love to share it with you.