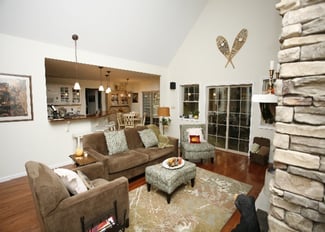 Whether you're building a new custom home or remodeling an existing home in the Poconos, one of the most important rooms to plan is your living room or family room. Next to the kitchen, it may be one of the most-used rooms in your home. And with today's emphasis on open designed floor plans, whatever you do with this room will be visible to anyone entering your home.
One of the things you'll want to consider is what style of living room or family room you want. The good news is that you have plenty of choices. If you check out a site such as Houzz.com you'll find listings for living and family rooms in the following styles: contemporary, eclectic, modern, traditional, Asian, beach style, craftsman, farmhouse, industrial, Mediterranean, mid-century, rustic, Scandinavian, southwestern, transitional, tropical, and Victorian.
If you think that's a lot of choices, you're right. But that's just the beginning. Even if you decide you want something traditional, Houzz offers you more than 123,000 photos to peruse!
So where do you begin? First of all, you probably want your living room or family room to fit the style of the rest of your home. So if you have a modern or a contemporary theme throughout the rest of the house, you're probably not going to want a Victorian living room. But there's a more important issue you should consider.
How do you want to use the room? Will your living room or family room be a conversation area? Will you use it for watching television or movies? Do you want it set off from other rooms for more privacy? Maybe you want it to have a slightly more formal feel—or to be set aside for quiet gatherings. Or it could be a very casual space where family and guest "spill out" when they're not hanging out in the kitchen.
While me may not offer 123,000 options like Houzz.com, there are still a number of directions you can take when choosing the right living room or family room for your Poconos home.
The Summit offers a Living Room with fireplace on the main level that's open to the kitchen.
The Willowbrook features a Living Room with cathedral ceiling that opens into the Dining Room.
Or you may want something less formal, such as the Great Room concept featured in the Liberty Hill model that has a Great Room (with fireplace and cathedral ceilings) that opens up off of the kitchen/breakfast area and is open to the back deck.
What makes your living room or family room "perfect" is when it fits your sense of style and fits your lifestyle. And the good news is that if you see a plan that's almost (but not quite) perfect for you—talk to us and tell us what you'd like to change. We can modify the plan to better fit your needs, whether that means changing the room size, the window placement, or the ceiling height.
We believe that your living room isn't perfect until you say it's perfect!