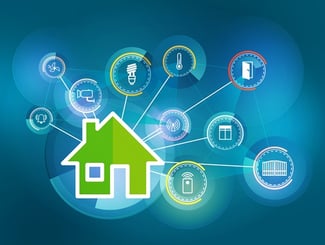 Smart homes are no longer a thing of the future or something that only "Tech-savvy" homeowners enjoy. Smart devices are everywhere and can make everyday life easier, more convenient, and even more fun. There's more good news. In addition to being more affordable than ever before, they are also easier to install and to use.
If you want to make your Poconos home instantly smart, you have all kinds of options. So where should you begin? Of course it depends on what kinds of functions you want your home to automate, but we found some great suggestions from the tech-wise folks at cnet.com about what they consider to be the best smart home devices. Here are a few highlights.
Home Assistant
One of the challenges of having multiple smart devices in your home is that they sometimes don't "play well together." So what's needed is what you might call a smart home centerpiece that is the center control point for all of your devices. It could be something like the Amazon Echo or the Google Home Assistant. The folks at cnet like the Amazon Echo the best, saying that its. "voice-activated smart home speaker is undeniably futuristic, but it's also practical and accessible. With a rapidly growing slate of features and integrations, it's easy to get excited about the Echo's potential." They call it "one of the best connected home products money can currently buy."
Smart Wifi
You might be thinking, "I already have wifi." Well smart wifi systems such as Google Wifi or Eero's Wifi System take wifi to the next level. With full home coverage, app control, and lightning fast speed, these systems will make sure you're connected 24/7. Whether you're an entrepreneur working on your next web based business idea or just an average homeowner trying to enjoy the newest show on Netflix, smart wifi could be the next best thing for your home.
Smart Lighting
Even the lighting in your Poconos home can be smart. And a good way to get started with smart lighting is with the Philips Hue Wireless Dimming Kit. This inexpensive tool allows you to control (dim and brighten) up to 10 bulbs at a time from a remote that doubles as a wall switch. You can find them at Walmart.com or at Home Depot among other places.
Wi-Fi Video Doorbell
SkyBell makes a Wi-Fi doorbell that features 1080p high-definition resolution, on-demand clip recording and free video storage. You never have to wonder who's at the front door. You'll be able to see without opening the door or peering through a peephole.
Smart Smoke Detectors
According to cnet, "No other smoke and carbon monoxide detectors available today can match the second-gen Nest Protect in terms of looks and options, making it a great buy for anyone who appreciates design and connected features." It will send an alert to your phone if the alarm goes off or the batteries run low. Not only does it alert you if there's a smoke or CO problem, but it also tells you where the problem is, so you know what to do.
That's just a smattering of what's now available in smart home devices.