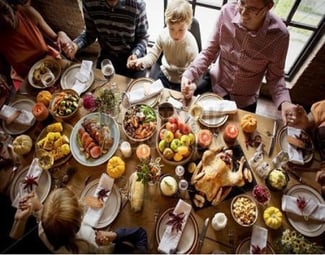 Thanksgiving dinners are often pretty special events. And sometimes, they are really big events. In fact, they are the kind of gathering that can really tax the physical limits of your Poconos home's entertaining capabilities.
You really can't prepare for a large Thanksgiving dinner the way you would for a normal dinner. So what can you do to make things as festive and comfortable as possible? It all begins with planning ahead. Here are a few tips that may help.
Plan Pre-Meal Activity Options: There's something enticing about being in (or near) the kitchen while the turkey and all the trimmings are cooking. That's understandable. But there comes a time when too many cooks in the kitchen can be a disaster. Sometimes the only way to keep people out of the kitchen (at crucial times) is to get them out of the house. Arrange a walk around the neighborhood to allow people to stretch their legs and work up an appetite. It can help buy you a few minutes of peace to make sure you have the meal under control.
Don't Overdo the Hors d'oeurvres: Many of us eat a little bit more than we should at Thanksgiving dinner. That's kind of expected. But guests may enjoy all of your hard work in preparing the meal if they haven't already stuffed themselves on snacks before the meal. Keep pre-mail snacks small and light. There will be enough "heavy lifting" during the main course.
Consider Dietary Needs Ahead of Time: When you invite guests, be sure to ask them ahead of time if they have special dietary restrictions. That way you won't be scrambling at the last minute to accommodate them.
Cut Down on the Passing: There's something very rewarding about seeing a big turkey on a platter. Maybe it's all those Norman Rockwell paintings we're used to seeing. But when it comes time to pass things around a huge tray of turkey (or anything else) can be hard to handle. That's particularly true if the dishes have to travel the whole length of a large table. Consider breaking things up into more manageable amounts for serving, and cut the amount of passing in half. That also makes it easier during the meal when someone wants more potatoes. They won't have to wait for it to travel the length of the table.
Embrace a Little Chaos: Head into your big Thanksgiving meal knowing that with more people comes more chances that not everything is going to go perfectly. Remember that you're all together to enjoy one another—not to witness an award-winning meal with flawless presentation.
Plan for the Future: When you've finished your meal and put everything away, think about what changes you might want to make to your kitchen or family room before your next big Thanksgiving dinner. Make a list of where you'd like to have more space—or space that's better designed to accommodate a large group. Then schedule a free remodeling consultation to come up with a plan that will allow you to entertain more comfortably next Thanksgiving!