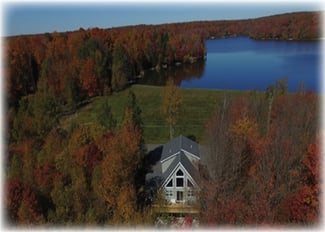 Lakefront property is one of those "dream-come-true" living situations. Dreaming about it is easy. Finding the right lakefront lot can be more of a challenge. Why is that and how do you go about finding a Poconos lakefront lot?
What makes it tough to find the right lakefront property in the Poconos region? After all, the area has plenty of lakes, right? Shouldn't that make it easier? First of all, not all the property around the region's 150 lakes is available for building. Some areas are protected. So you have to know where to look and what a reasonable price is to pay.
On top of that, not every piece of waterfront property is suitable for building. If you don't know how to evaluate the property, you could end up purchasing a lot that takes a lot of additional preparation work before it's safe to build a home on it. That could include engineering studies and extensive soil preparation before you can pour a foundation.
How do you go about finding the right property? If you have your heart set on building a lakefront home (and let's face it—it's an awfully attractive proposition) you're safest bet may be to go through professionals who have already done the research and heavy lifting required.
At Liberty Homes, we build in several lakefront communities, including Lake Naomi (a 277-acre multi-purpose lake) and Locust Lake (the community is actually located on 5 lakes. Three of them have beaches for swimming that are staffed by lifeguards in the summer. And all the lakes are stocked with fish!). Of course you don't have to be on a lake to enjoy life beside the water. Another of our communities, Thornhurst Township, is situated along the Lehigh River. Outdoor enthusiasts love the variety of activities available in the area and residents rave about the natural beauty.
We understand the appeal of living near a gorgeous body of water. In addition to the glorious views there are just so many things to do on or near the water. But don't get yourself into a jam by purchasing a lot that can't be built on or that requires so much work that it will cost you way too much. We'd be happy to show you properties (and floor plans) that will deliver just what you want.