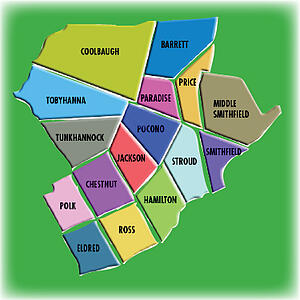 Stunning vistas of woodlands and lakes and living off the beaten path are just a couple of things that draw potential homeowners to the Poconos to build a dream home. But when you're considering building a custom home in the Poconos there's more to choosing the right lot than simply nice views out the back window!
Of course you probably want easy access to things such as state parks, picnic areas, hiking, snowmobiling, and cross-country skiing trails. And you'll also want to be able to get to shopping areas without too much difficulty. So location means more than choosing a property in the middle of the trees.
And while being close to a lake or a stream may be idyllic, properties like that can present some building challenges—if you don't know what you're getting into. And that's where choosing your lot is a really big deal.
Before you build, you'll want to make sure that the lot you're building on is suitable for the home you want to build. Will you have to do extra excavation in order to put in the foundation? Is the soil suitable for supporting a house? What about water, sewer, and electricity? Will you be able to connect easily—or will you be looking at extra charges?
Liberty Homes has been building quality custom homes in the Poconos for 36 years. We know the area. And not only do we know which areas are beautiful and desirable—we also know from experience which lots are suitable for building—and which ones can cause homeowners headaches.
We have a number of lots that are available to build on right now! If you already have property, we can build on your land. If you're looking for that perfect lot—we can help you find it and make sure it's right for what you want to build. Or we can build your dream home in one of our 6 preferred communities.
When you're ready to build in the Poconos, remember that the lot you choose is a big deal—and choosing the right lot involves a lot more than simply picking one with a nice view. We'd love to help you get the lot that's just right for you!