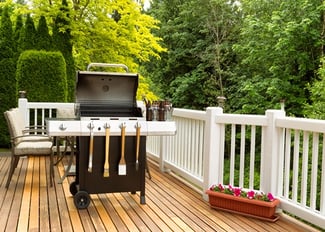 It used to be that decks were simply a place you could escape to during a party to catch a breath of fresh air, or perhaps where you might do your grilling. But decks today have come a long way. You can turn your deck into an alfresco family spaceor casual dining room. Screened-in decks can keep insects at bay and ceiling fans can circulate air to keep everyone comfortable.
Have a Seat
Once upon a time, the only options for seating on the deck were folding garden chairs or plastic (resin) weatherproof chairs that never really looked good with anything (and weren't all that comfortable.) Built-in seating has become very popular, and it maximizes the versatility of your deck. You can seat a larger number of people (if you entertain a lot) without adding a bunch of furniture. And all-weather furniture is available that's both stylish and comfortable.
What's Cooking?
Grilling on the deck has long been a favorite summer activity, but grills have come a long way since the days when dad would dump a bag of charcoal briquettes on the grill, douse it with lighter fluid and run the risk of setting half the neighborhood on fire! Today's grills are sophisticated and attractive, with all kinds of options and features. Check out the BestReviews.com list of the top BBQ grills for 2016 for what's new in the grilling department (they also mention several other contenders). You may even want to consider built-in grills, or – for enthusiasts who really want to avoid the heat of the kitchen in the summer months – a whole built-in kitchen on the deck, with everything from a grill to a refrigerator and a sink.
Fire It Up
Fire pits on the deck can create a wonderfully relaxing and cozy place to hang out after dark. You can chose from small, standalone models to pits that are incorporated right into the structure of the deck. A fire pit is a great way to enjoy an evening outdoors after darkand can even extend your deck usage as you head into cooler autumn weather.
Both our Lakewood and Summit homes include great decks to begin with. But, as with any Liberty Homes plan, you can modify the deck to better suit your personal tastes and needs. A love of the great outdoors may be one of the primary reasons you're considering building in the Poconos, so why not build a deck on your new home that lets you get out and enjoy the beautiful view?