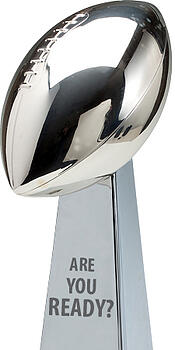 For more than 20 years we heard the question every Monday night: "Are You Ready for Some Football?" Most of the time, a lot of us were ready. We had our snacks. We had our favorite chair. But the Super Bowl isn't just any football game. And the question isn't just are you ready—but is your Poconos home ready for some Super Bowl football?
Watching the Super Bowl is a lot more fun with friends—and the more the merrier. But if you're not ready for your friends (rowdy or not) your party can be less than super. How can you get your home ready?
Let's start with the snacks.
For some viewers what's on the spread is every bit as important as what is on the television. But getting to those treats can be an issue. Make sure you set up a table that has easy access for guests (without blocking the action onscreen). And make sure you can get at the table easily with refills.
How about the viewing area itself?
If you're having guests over before the game, you'll want to make sure glare from outside doesn't interfere with their ability to watch. Do a trial run the day before and sit in various parts of the room to make sure nobody's view is compromised.
What about during commercial breaks?
Can your guests make it to the powder room easily? Is there a back-up bathroom so guests don't feel like they're standing in line (like at the stadium)? And is there something you can do to make those bathrooms feel a little special?
What about your non-football fans?
Not everybody who shows up will be all that jazzed to watch the whole game. Some are just there for the company. Set up a separate room away from the football action where people can gather and talk without getting glares from the hardcore football fans.
If you love having people over for events such as this—but find that your home makes it hard to pull off the perfect party—it may be time to think about remodeling a room or two. Maybe you'd enjoy a larger, more open kitchen that makes it easier for guests to get in and out for snacks. Perhaps it's time to redo that embarrassing powder room so that it's more convenient and comfortable for guests. Of maybe it's time to redesign the family room so that it's more conducive to having company.
Whatever your remodeling needs for your Poconos home, we can help you come up with the perfect plan and execute it flawlessly. So if your current home cramps your style, call us after the game and we'll help you come up with a game plan that will make next year's Super Bowl Party a rousing success!