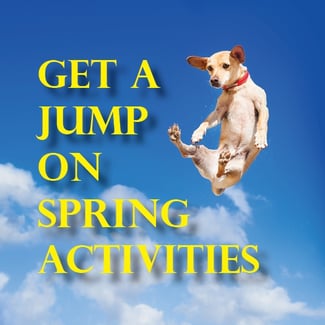 Just a few weeks ago, Punxsutawny Phil promised that spring wouldn't be far off. And while Phil has been known to miss his prognostications on occasion, spring will hit the Poconos soon. That, of course, means shifting gears from snow fun to a whole different kind of outdoor activity.
Now is the time to start making plans so that when things start to bloom, you'll be ready to take advantage of all the Poconos region has to offer. Here are some things you may want to check out to get a jump on spring activities in the Poconos:
Jump (Literally) Right Into Spring
Imagine soaring 13,500 feet above the Pocono Mountains with nothing around you but sky! You'll be able to take in incredible views of the Delaware Water Gap and even the New York City skyline before gently touching down with Sky's The Limit Skydiving Center.
Zip It!
No, we're not telling you to be quiet... we're inviting you to zip through the air above the Pocono Mountains and take in the fantastic scenery of the region's rivers, parks and woods. And if you have a need for speed, you can even race a friend at a number of zip lines throughout the region.
Race Like a Pro
If a zip line moves too slowly for you (or if you've always dreamed of racing a stock car), you may want to check out the stock car racing experience at Pocono Raceway. It's your chance to climb behind the wheel of a NASCAR-style stock car and take on the famous "Tricky Triangle" yourself in a 600-horsepower NASCAR Sprint Cup-style race car that can reach speeds of up to 165 mph!
Take In the Sights on Two Wheels
If moving a little more slowly on two wheels while taking in great scenery is more your style, you may want to check out the 25-mile scenic bike trail through the Lehigh Gorge State Park. You'll pedal through an abandoned railroad bed and follow the river past fantastic rock formations, tumbling waterfalls and plentiful wildlife.
Enjoy a Big Day Out
On most weekends from April through October, you can enjoy a really big day out with a mountain bike ride between the 1,000-foot walls of the Lehigh Gorge Rail Trail to the famous Glen Onoko Falls. From there, you can take a scenic hike to an abandoned railroad tunnel with beautiful overlooks of the Lehigh River. Then wrap things up with whitewater rafting down the Lehigh River. Do all that in one day and nobody will ever call you a wimp again!
Whether or not Phil got his dates right, there's always plenty to do in the Pocono Mountains!