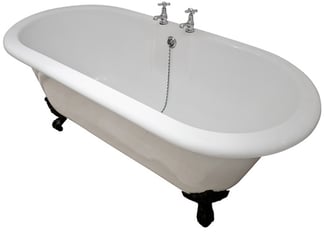 One of the most important rooms to think about when building a new home is the master bathroom. At one point in time, it was a bit of an afterthought for a lot of homeowners—but not anymore. The fact that (according to the National Association of Home Builders) the bathroom is the single most commonly remodeled room in the home, provides you with a glimpse of just how important this room is. Apparently, a lot of homeowners aren't completely happy with what they start out with!
Part of that may have to do with the nomenclature. We call this essential room a "bathroom" but is that really accurate? Does the master bath in your new Poconos home absolutely have to have a bathtub?
For years, conventional wisdom dictated that you had to have a bathtub in the master suite. For a period of time, a master bath wasn't considered complete unless it had a soaking tub—and some of those tubs got pretty big and elaborate. And while some people still like to relax and soak their tensions away, others prefer a larger shower—sometimes with multiple showerheads and sometimes with a steam shower built in.
You may have heard that some home buyers won't consider a home that doesn't have a bathtub, but these days some realtors have reported that they've had clients who refused to buy—not because there was no tub, but because the shower wasn't big enough.
What does that mean for you when you're thinking about building a new home in the Poconos? What's the right call?
While it's always good to have resale in the back of your mind when you build a home, you don't want to make the mistake of building your home for someone else. Think about what makes you comfortable. What would make your master bathroom the perfect room for you? If you like soaking in a hot tub, build your master bath with a tub—whether it's a conventional tub or a whirlpool spa. If you prefer a larger shower or a relaxing steam shower, build your bathroom that way.
If you take a glance at the floor plans we offer, you'll see that a lot of the plans include both a shower and a tub. But remember that we build custom homes. That means we can adapt the floor plans (including the bathrooms) to your specifications and desires. You should be the one who chooses whether you want a bathtub, or a shower, or both.
And then, you can call that room whatever you want!