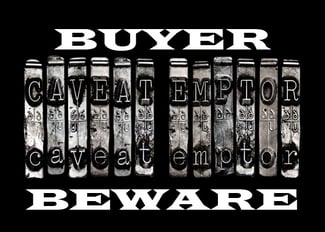 We've all heard the old adage that if a deal seems too good to be true, it probably is. That little nugget of wisdom also applies to building a new home. It's why homebuyers should heed the warning: "Caveat Emptor" (Let the buyer beware!).
The phrase comes from the fact that buyers typically have less information about something they are purchasing than the seller does. In the case of buying a new home in the Poconos, it can put the buyer at a serious disadvantage—even if a seller isn't deliberately trying to mislead him.
It can be particularly troublesome if the homebuyer is extremely (or exclusively) price-driven. If you come across a "deal" on a new Poconos home that seems too good to pass up, but it makes you a bit nervous, what should you look at? There are a lot of things that can affect the price of a new home, but let's consider a few of the big ones that you should be aware of—the ones that have the biggest impact on the price:
Property/Location: The piece of property that a home will be built on plays a huge role in the cost of the If the price of the lot itself makes the home less expensive, you'll want to ask yourself why. Is there something about the location that's not good? Is it loud? Are there drainage problems? Does the lot require a lot of work before it can be built? What is (or will be) on the neighboring property? If you have in mind that you're going to build a Pocono Mountain retreat, you probably don't want to end up next door to a convenience store!
Design: Good design matters a lot when it comes to building a home. A builder who saves money by skimping on the design isn't really doing you any favors. Make sure the design you're looking at fits your needs and your lifestyle. Will you be able to make changes to the proposed design? How much will the builder charge for that? And is the builder capable of making the changes you want?
Craftsmanship: Labor is a major cost factor when building a home. Some builders try to keep costs down by hiring lower-cost construction help. But you get what you pay for. A builder that is used to cranking out tract houses won't be using the kind of skilled craftsman that a true custom builder uses. You may not always see the results right away (although usually it becomes obvious pretty quickly), but you'll notice the difference down the road.
Materials: When you're comparing homes and prices, make sure to get an "apples-to-apples" comparison when it comes to the building materials being used. Saving a few hundred (or even a few thousand) dollars up front doesn't really pay off if you have to repair or replace poor quality construction in just a few years.
Inadequate Allowances: Some builders keep their initial costs low by understating what the real allowances for finishes are. Then they hit homeowners with additional charges to bring things up to the standards that the owner actually wants. Again, make sure you are making an accurate comparison when looking at competing bids.
Nobody gets something for nothing when it comes to building a new home. So if you find a deal that seems too good to be true, remember: Caveat Emptor! Buyer beware!