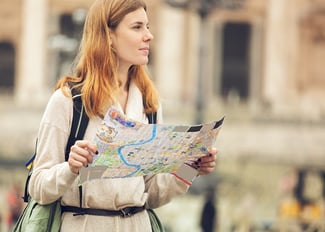 When you're considering building a new home in the Poconos, you may be a bit uncertain as to how to get started—particularly if it's your first time building a home. There are tons of resources available to you, but wading through all the information out there can feel a bit like arriving in a foreign city with a mapand not being sure how to read it.
Here's some help.
Check out our e-book on building a custom home in the Poconos. There's no obligation when you download our Free New Home Buyer's Guide, but there is a lot of helpful information to help you navigate the homebuilding process.
You'll explore topics such as:
How to budget for a custom home (a crucial first step in the homebuilding process)

Finding a home site (find out why whereyou buy is just as important as what you build)

Selecting the perfect builders and designers (discover what to look for in a good builder and how to avoid questionable contractors)

Creating your ideal floorplan (find out what to look for to meet your specific needs)

Designing your indoor and outdoor living spaces (outdoor living is a big part of the Poconos lifestyle)
Not only will the information in this free guide provide you with a better understanding of the custom home building process in the Poconos, but it will also bring you one step closer to your perfect home!
What if you already own a home in the Poconos and simply want to make it better? No problem! We've got help for you as well. You can check out our free Design the Perfect Kitchen e-book or schedule a free remodeling consultation to figure out what you need to do to turn your existing Poconos home into the home of your dreams.
You don't have to wander aimlessly and alone in uncharted territory. It's good to have a guide (especially one with no obligations) to help you find your way!