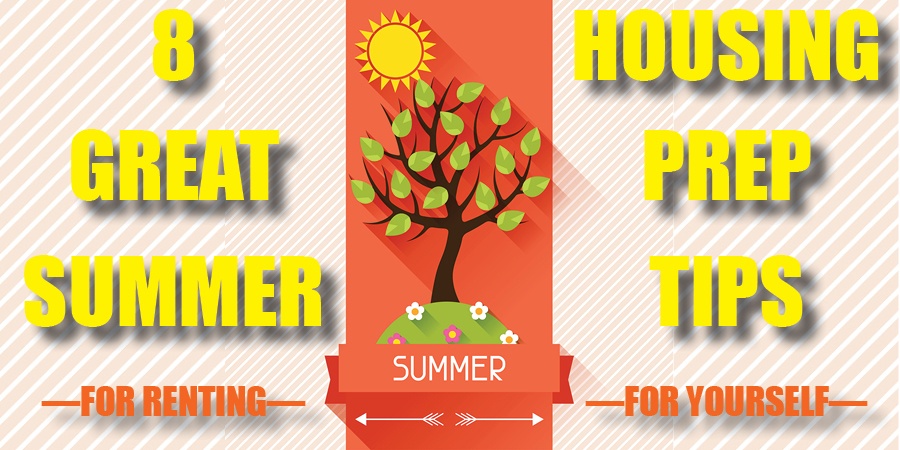 If you have a vacation home in the Poconos that hasn't been in use for a while, there are probably a few things you'll want to do to get it ready for use. And whether you plan to rent out your home to others—or occupy it yourself—here are 8 tips for preparing your Poconos home for the vacation season. By the way, if you've only thought about having a vacation home in the Poconos, here's a look at some of the reasons it might make sense.
If You're Planning to Stay in Your House Yourself
To be honest, these are things you'll also want to take care of even if you are planning to rent out your home. They'll ensure a more pleasant stay for your tenants and allow you to ask for a better rental price because of it.
1. Do a Thorough Inspection
If your Poconos vacation home has been vacant for a while, you'll want to make sure everything is fully operational. Check the furnace and the air conditioning to make sure they are working properly (and change filters as appropriate). Make a note of you're your HVAC system was last serviced. Check the roof (or have someone check it for you) to ensure no damage occurred over the winter. Look inside for signs of water damage or leaks. Check all windows to make sure you have no broken panes—and that all windows and doors are operating properly.
2. Air Things Out
A home that's been closed up for a longer period of time can be a little dusty and musty. When you're checking out the windows, leave them open for a while to let fresh air in. If you have a musty smell that doesn't go away, check more closely to see if you have mold anywhere. Mold is not only unpleasant, but it can also be a health hazard. You'll want to make sure you don't just mask the smell, but that you eliminate the problem.
3. Check the Deck
Enjoying the beauty around you is a big part of Poconos living. A lot of homeowners spend a lot of time on their decks. Winter, however, can be hard on decks in the area. Make sure your deck is ready for a summer of enjoyment. You may want to power wash your deck to make sure it's clean. Check for loose, splintered, or even sagging boards.
4. Freshen Up the Outdoor Furniture
Don't forget to take a close look at your deck furniture. Even if you've had your outdoor furniture covered and stored, you'll want to make sure it's clean and in good shape. You can use something like Murphy's Oil Soap to clean and condition wooden furniture. If you have painted pieces you'll want to make sure they aren't chipped or faded. Also, consider new cushions for chairs and benches. New cushions can make the whole deck area look like new. And if you do replace them, consider indoor/outdoor material that will stand up to the elements better.
If You're Planning to Rent Out Your House
There are a few things you'll want to do to make sure that the rental experience is smooth for both your renters and for you. Here are a few suggestions.
5. Consider Hiring a Property Management Company
If you're not going to be at your Poconos home during the vacation season it may make sense to hire a reliable property management company to keep an eye on things. They will be able to handle small issues that tenants have without your having to be there. On top of that, they can monitor how your tenants are treating your property—and will be able to handle maintenance and minor repairs.
6. Do an Insurance Review to Make Sure You're Covered
It's a smart move to talk to your insurance company to make sure your policy is up to date. For one thing, if you've made improvements to your Poconos vacation home, it may be worth more now than when you first insured it. Also, you'll want to make sure that your policy covers you if you are renting out the property rather than living in it yourself.
7. Put Appliance Information Where It's Easily Accessible
If the appliances in your rental property are different than the ones your tenants are used to they might have some struggles using them. You can avoid unwanted calls in the middle of the night, by gathering all of your appliance information together (furnace, AC, stove/oven, refrigerator, coffee maker, TV, thermostat, etc.) and put it in a binder or a folder that is clearly marked and easy to access.
8. Secure Personal Items You Don't Want Others to Disturb
There's a good chance that you may want to leave some personal items, documents, or other things in your vacation home even when you're not there. If there are items that you don't want tenants to have access to, find a secure place to keep them out of reach. A small safe can be great (and relatively inexpensive) for documents and smaller items. For larger items (such as clothing or furniture) you may want to have a separate room that can be securely locked. If you have highly valuable items in the home, you may simply want to remove them while you're renting out the property.
You may also want to notify your Poconos neighbors that someone else will be staying in your home for a period of time. It's a simple courtesy so that they aren't alarmed to see strangers in the neighborhood. And it could save you from getting a phone call from the police asking if you're aware that your home is occupied.
A little bit of preparation can make your Poconos vacation home a more relaxing and enjoyable place—whether you're enjoying it yourself or renting it out for the season.