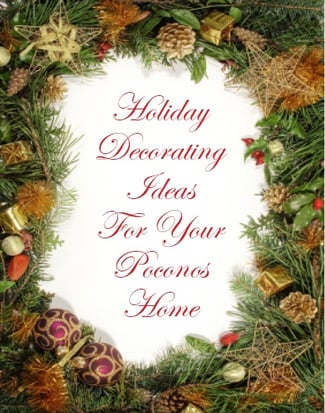 Many of us look forward to decorating our homes for the holidays. It's such a festive time of year and the extra glitter and sparkle can really lighten the mood during those dark winter days and nights.
You may have noticed, however, that when you display all of your holiday décor that your Poconos house seems to shrink a little. In extreme cases, what started out as a highlight for your home can actually make it feel a bit claustrophobic.
Here are a few tips that can help keep your holiday trimmings bright and merry, instead of overwhelming.
Let There Be Light: The design of most homes today try to take advantage of as much natural light as possible. When decorating, try to avoid blocking sources of natural light coming in through your windows. It's OK to have decorations near the window (if you want to let a little bit of bright light out at night). But try not to let decorations block natural light from coming in.
Remember That Size Matters with Décor: Some of us are accustomed to finding the biggest, tallest tree we can find for the season (whether it's a real tree or an artificial tree). You may want to consider downsizing your Christmas tree to allow yourself more room. It doesn't have to be big to be beautiful.
Think Thematic: Often our holiday decorations have a lot of sentimental value. Certain pieces have special memories attached to them. But when you put them all together they can clash and "fight" for space. Try organizing things by themes. Put angels in the kitchen and Santas in the Family room. Or try color-coordinating the decorations to go with the dominant colors in each room.
Brighten Up Your Rooms: The right décor can really brighten the mood in a room. But bright doesn't have to be glaring or garish. Using metallic finishes to reflect candlelight or other room lighting can add a nice, elegant touch.
Call Attention to Special Architectural Elements: If you have a nice staircase, a simple garland intertwined with the spindles in the staircase adds a fresh touch of class. Of course a fireplace begs for attention at this time of year—but make sure your decorations highlight it instead of overwhelm it.
Start From the Outside In: You might want to consider moving a few select decorations outside your home to set the tone there. Wreaths and light-wrapped topiaries can be a great mood-setter and add an element of welcome for guests.
Focus on Warmth and Comfort: Keep in mind that the main idea is celebration and comfort. Decorating isn't as much about showing off as it is about creating a mood where people (family and friends alike) feel comfortable.
Start Small: Not all of these ideas may appeal to you. You don't have to implement all (or any!) of them. And you may have already done a significant amount of holiday decorating in your Poconos home. Pick one or two ideas and play around with them to see if they feel right for you home. Simply reducing some of what you put out can make your living space more open and comfortable. Plus, it allows the items you do feature to really stand out instead of compete with each other for attention.