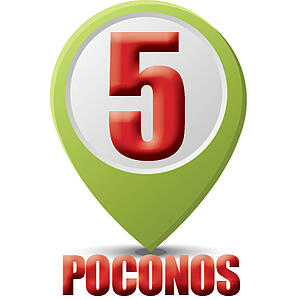 Maybe you've thought about owning a home in the Poconos for a long time. A lot of people toy with the idea of escaping to the mountains and leaving it all behind. It could be that you've thought of having a second home here. Maybe you've thought it would be a great place to retire and enjoy all the outdoor activities the region has to offer. Or maybe you've considered moving the family to a place where the pace is a little slower and relaxed.
Any of those reasons are actually great reasons for a move to the Poconos. But finding the right home isn't something that automatically happens. It takes some thought and some planning. Here are five tips to keep in mind as you pursue your Poconos dream.
1. Buy for Now
Occasionally we're so focused on what's coming (or even what might be coming) that we forget about now. People sometimes make that mistake in building a home. They plan for a place where the kids will come visit in the future. That's great if it happens, but it often doesn't happen quite as planned. Will you really need 4 or 5 bedrooms to accommodate guests—or will a slightly smaller number serve you better?
2. Buy for the Future
If you're considering retiring in the Poconos it's a good idea to plan ahead. Lots of stairs may not bother you now, but what about 5 or 10 years from now? And what about having a main level master suite so you don't have to deal with stairs later?
3. Buy for How You Live 90 Percent of the Time
If you entertain a lot, you may want to build a home that let's you do that comfortably. That might mean a larger kitchen that opens to a great room that gives everyone lots of space. But if you only entertain occasionally, do you really want to devote a lot of space to that purpose? Maybe you'd be better off with a bigger family room or even a home theater room.
4. Don't Buy More Than You Can Afford
Over-extending yourself on your home won't make you happy. In fact, it will cause you stress. It defeats the purpose of moving to the woods to get away from the stress of city or suburban life it you're so financially strapped that you can't enjoy it. Figure out a realistic budget and stick with it.
5. Don't Buy Less Than You Can Afford
This, of course, is the flipside of spending too much. Don't cut corners or obsess about saving. Sometimes spending a little bit more up front will end up giving you so much more. Adding features later (especially square footage) will be more expensive than doing it now. The same is true for finishing touches such as lighting, appliances, and soft-close drawers. And nobody ever complains that their kitchen is too big. It's a lot easier (and cheaper) to build it the way you really want it now than to come back a few years later and re-do it.
Whatever your reason for wanting to build in the Poconos, remember these five tips. They'll help you end up with the home you really want. And if you're looking for ideas of what a great home in the Poconos can look like, take a look at these custom creations.