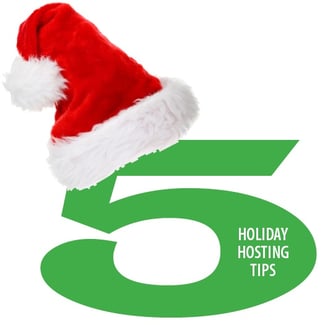 Having people come together to celebrate is a big part of the holidays. But how can you make holiday get-togethers at your Poconos home fun and enjoyable for your guests—without stressing yourself out in the process? Here are five tips that can help.
1. Take a Tip from Santa
Everybody knows that Santa "makes a list and checks it twice." If the jolly old elf can use a cheat sheet to keep himself organized, so can you. If you're planning a holiday event, make a detailed list of what you need, where you can get it, and when you'll need it. It's too easy for memory banks to get overloaded this time of year!
2. Pre-Prepare
Let's face it; a lot of our holiday celebrations are food-focused. Figure out things that can be prepared ahead of time and sealed or frozen so that you don't have all the cooking and food prep to do at once. You'll want to leave some things to the last minute, but there are plenty of items that can be prepared ahead of time—and that reduces stress.
3. Keep Background Music in the Background
It's nice to have some holiday music going to welcome people into your home and set the tone. It's especially nice if you have early guests and need some "awkward silence filler." But keep the level low. The music isn't the main attraction; your guests are. Conversations are more important that hearing every word of "Grandma Got Runned Over By a Reindeer."
4. 'Tis The Season for Giving
If you want to add a really nice touch, prepare small simple gifts for guests to take home with them. It could be an ornament for them to hang on their own tree at home (and they'll remember you every time they hang it), or it could be a plate of Christmas cookies wrapped up with a bow. It doesn't have to be expensive or extravagant—just thoughtful.
5. Clear the Decks Before Decking the Halls
Big Holiday parties can get crowded. Consider removing some of the non-essential furniture. Sure, you'll want plenty of places to sit, but a lot of people stand at parties and move around. Sometimes guests appreciate space to move more than a place to sit. Put extra furniture in a room that's off limits and move it back after the party is over.
Above all, focus on your family and friends and guests. Attending to their needs and comfort is what they'll remember—long after they've forgotten what they ate or how your home was decorated.